Announcing the winners of the Hawai'i Gas Presents 2023 Localicious® Recipe Contest Cookoff and Hawaii Foodservice Alliance Presents Food Innovation Pitch Fest

HONOLULU, HI (November 17, 2023)—This year's HMAA Presents Keiki in the Kitchen® event—held last month at Bishop Museum as part of the Thirteenth Annual Hawai'i Food & Wine Festival's (HFWF)—was home to not one, but TWO prize competitions that brought locally grown, raised and caught ingredients to the center of the plate!
The annual Hawai'i Gas Presents 2023 Localicious® Recipe Contest Cookoff featured six finalists from the Neighbor Islands competing with an original, healthy recipe inspired by something they would like to eat as their school lunch with a focus on local ingredients. Scored by a panel of expert chef judges—including Chef Alan Wong, HFWF co-founder & co-chair; Alicia Moy, President and CEO of Hawai'i Gas; and Weston Yap, Farm To School Coordinator, Office of Facilities and Operations for the Department of Education—their dishes were evaluated on taste, presentation, creativity and use of local ingredients.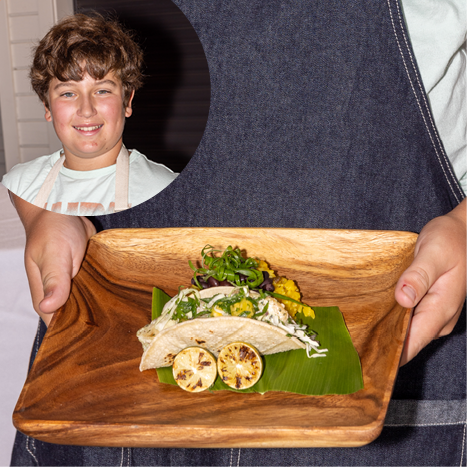 Taking home first place in the Grades 4-8 category was Bennett Garzon, Grade 6 of Carden Academy of Maui. His winning recipe, Bennett's Grilled Hawaiian Fish Tacos, featured locally caught Mahi Mahi and pineapple. "I lived in Mexico when I was younger and that is when I fell in love with tacos," shared Garzon. "Now that I live on Maui I have learned about new Hawaiian flavors. I took my love of Hawaii and mixed it with my love of tacos."
First place in the Grades 9-12 category, along with a cash scholarship of $300, went to Cisco Magbanua, Grade 11 of Kealakehe High School on the Island of Hawai'i. His Onolicious Indian Ulu Stew was a take on butter chicken, traditionally known as Murgh makhana—an Indian dish originating from Delhi. "I would love to see it in the school cafeteria because it uses an island staple that most kids don't eat but my dish is well prepared with flavor and texture," shared Magbanua. "I think this could be a local school favorite for years to come."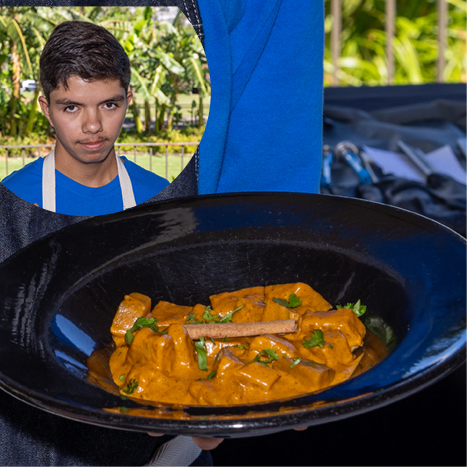 On the Main Stage, the stakes were raised for four entrepreneurs who incubated their value-added food products in Hawai'i Ag & Culinary Alliance's ChefZone Presents From Cottage Industry to Commercial Enterprise Program—in partnership with Leeward Community College and the Wahiawā Value-Added Product Development Center. The LIVE Food Innovation Pitch Fest presented by Hawai'i Foodservice Alliance provided an opportunity for members of the 2023 cohort to win a $10,000 cash prize to invest in their business, with a $5,000 cash prize awarded to the runner up.
Finalists Poni Askew of Hawaiian Vinegar & Spice Co, Brandon Chung of The Hō'i'o Guy, Micah Richards of Mauka Meats & Hawaii's Würst, and Anuhea Sills of Mahina Mea were asked to deliver an 8-minute pitch and presentation of their businesses, with product samples, to a panel of experts including Joni Marcello of Hawaii Foodservice Alliance, Jeff Yamasaki of ChefZone & Y.Hata Co, and Lauren Zirbel of Hawaii Food Industry Association. Scored on their use of locally sourced products, innovation and uniqueness, business model, investment potential, and scalability, the judges awarded the $10,000 cash prize to Poni Askew of Hawaiian Vinegar & Spice Co, with second place going to Micah Richards of Mauka Meats & Hawaii's Würst.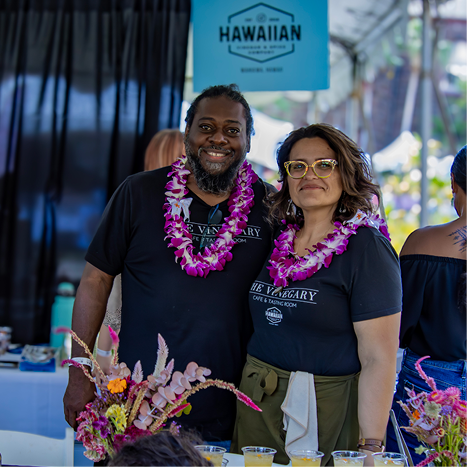 Based in Wahiawa, Hawaiian Vinegar & Spice Company crafts artisanal, live, raw vinegars using a unique double-fermentation process to create sweet and tart drinking vinegars, also known as shrubs. Their mission is to create world-class vinegars and vinegar-based products by rescuing off-grade and fresh produce from local farmers. The funds will be used "to expand fermentation equipment—upgrading alcohol fermenters, expanding vinegar fermentation tanks, and increasing bulk storage," shared Askew. "This investment will help us increase production capacity and assist us in reducing our vinegar ingredient costs by 50%."
Dedicated to being pono and 'ono, Mauka Meats sells meat and meat products produced from locally raised/hunted animals and processed in Hawai'i. With a mission to improve the local meat and livestock industry, they set out to create a USDA sausage product, Hawaii's Würst, using only locally sourced livestock. "A sustainable sausage product will become a key factor in improving the livestock industry," shared Richards. "Steaks, chops and premium cuts will always sell themselves, but the ground meat of any animal will always have a firm price cap due to it's perceived uniformity to imported products. Only by creating a value-added product such as sausage can we create the margins needed to push the local livestock industry forward."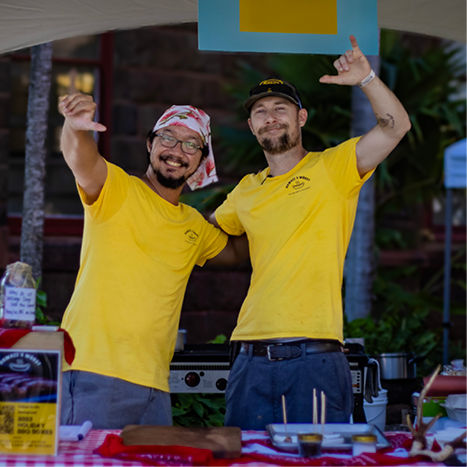 For Press & Media inquiries, please contact:
Kristen Lau-Grover, Director of Marketing & PR | [email protected] or 808-721-1849
ABOUT HAWAII FOOD & WINE FESTIVAL
The Hawaii Food & Wine Festival® is the premier epicurean destination event in the Pacific. The three weekend Festival features a roster of more than 150 internationally renowned master chefs, culinary personalities, sommeliers, mixologists, and wine and spirit producers across three islands—making it the largest food and wine festival in the state of Hawaii. Co-founded by two of Hawaii's own James Beard Award-winning chefs—Roy Yamaguchi and Alan Wong—the Festival was founded to put a spotlight on Hawaii as a culinary destination during the visitor industry's shoulder season and showcase the state's diverse agriculture by requiring all participating chefs to highlight locally grown, raised or caught ingredients in their dishes. In addition to showcasing local chef talent, the festival has become a platform to highlight local artists and artisans, makers, musicians, performing and visual artists to rebuild vital industries in Hawaii. Since the beginning, proceeds from the festival have supported local aina-based and community organizations committed to culinary and agricultural education, sustainability and cultural programs. In 2022 HFWF raised $380,000 to support 17 beneficiaries, bringing total giving since 2011 to $3.5 million.