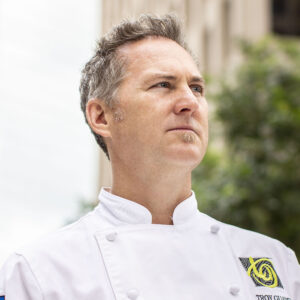 Troy Guard
TAG Restaurant Group - Denver, CO
Born and raised in Hawaii, Chef Troy Guard began his career working with his mentor, Chef Roy Yamaguchi at the Kahana Bar and Grill in Maui. Under the tutelage of Yamaguchi, he traveled to Asia, opening multiple outposts over a span of eight years in Hong Kong and Tokyo before landing in New York.
Back stateside, Guard settled in as executive chef of hotspot TAO. Putting down roots in Denver, CO, he opened his first restaurant, TAG, which led to his now diverse restaurant portfolio.
TAG Restaurant Group is currently comprised of fifteen restaurants representing eight concepts, from a bubbly breakfast joint, HashTAG, to the quick-casual Bubu, to the show-stopping modern steakhouse, Guard and Grace, and everything in between. While the concepts vary wildly, throughout you will find evidence of Guard's Hawaiian roots as well as special global touches, creatively woven into the menus.
Troy Guard is very active in local and national philanthropic efforts, including participation in a variety of cultural and charitable events. Named one of the "Great Regional Chefs of America" by the James Beard Foundation, he participates in events around the country that benefit the Beard House, along with many other philanthropic efforts in Denver.