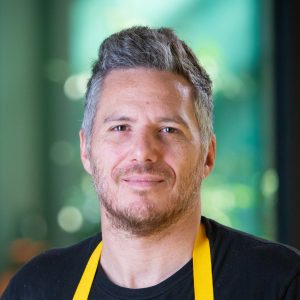 Spike Mendelsohn
PLNT Burger - Fairfax Station, VA
Chef Spike Mendelsohn is Co-Founder and Chef of Eat the Change™, a platform to inform and empower consumers to make dietary choices aligned with their concerns around climate and health. A nationally recognized chef and restaurateur, as well as Bravo's Top Chef Fan Favorite, Mendelsohn has always been passionate about how food impacts our country and the world. He has worked with organizations including CARE, DC Central Kitchen, Food Rescue US and Food Policy Action to advance food equity and education, and serves as the first chairman of DC's Food Policy Council. He brings this passion and experience to his role at Eat the Change™.
Mendelsohn has always had a love of nature and an interest in environmental causes, but it was a chance meeting with Seth Goldman, Co-founder of Honest Tea and Chair of the board of Beyond Meat, that provided this activist-minded chef with his most passionate project to date—Eat the Change™. At ETC, Mendelsohn is focused on launching businesses that make climate-friendly foods delicious, fun and accessible. Goldman and Mendelsohn's first collaboration was PLNT Burger, a fast-casual restaurant concept where Mendelsohn offers up some of America's favorite foods free of animal products, without compromising flavor or experience.
Spike Mendelsohn is a graduate of the Culinary Institute of America and has worked with some of the world's most renowned chefs and restaurateurs during his nearly three decade career. From chef and restaurateur to television personality, product developer and consultant, he is a force to be reckoned within the culinary world.