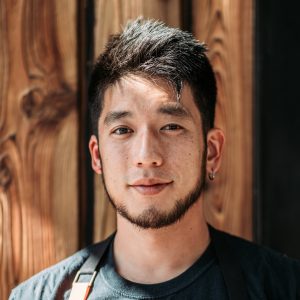 Shota Nakajima
Taku - Seattle, WA
Chef Shota Nakajima began his culinary journey at the age of 16, working for a highly acclaimed sushi restaurant in his hometown of Seattle, WA. At the age of 18, Nakajima moved to Osaka, Japan to learn about the art of Japanese cuisine. There, he had the opportunity to work for Michelin Star-rated Chef Yasuhiko Sakamoto, an experience that greatly changed Nakajima's perspective on cooking and his approach to food.
Since returning to Seattle, Nakajima's dream of applying Chef Sakamoto's approach to hospitality and Japanese cuisine in the United States—combined with his own perspective and imaginative applications—was realized through his Capitol Hill restaurant Adana. At Adana, Nakajima parlayed his meticulous detail, high-quality and approachable Japanese comfort food, blending his Japanese heritage and his American influences. He then went on to open Taku in Seattle, featuring Osaka-style street food.
Since opening his first restaurant in Seattle in 2015, Nakajima has competed on the Food Network's "Iron Chef Gauntlet" and "Beat Bobby Flay" where he was victorious preparing tempura. He has been a semi-finalist for the James Beard Foundation Awards in 2018, 2019 and 2020, received an Eater 'Young Guns' award and Zagat's '30 Under 30' chef designation. Adana was the recipient of 'Best New Restaurant' in The Seattle Times and a 'Top 10 Restaurant' in Seattle Magazine. He was awarded Star Chefs '2020 Seattle Rising Star Chef,' among other accolades.
Nakajima competed on Season 18 of Bravo's "Top Chef" in 2021 placing as a top three finalist. He was awarded "Top Chef" Season 18 Fan Favorite as voted on by the public.
Shota Nakajima seizes every opportunity to get outside and forage or fish, taking advantage of the abundance of wild goods in Washington's mountains and waters.