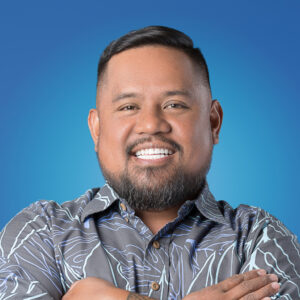 Sheldon Simeon
Tiffany's Restaurant & Bar - Wailuku, HI
Born in Hilo, on the Big Island, Sheldon Simeon acquired his love for cooking from his parents. His path led from Hilo High to the Culinary Institute of the Pacific, onto an internship at Walt Disney World. Upon returning to Hawaii, he attended Maui Culinary Academy.
Simeon competed in season 10 and 14 of Bravo's Top Chef, making it to the finals and winning Fan Favorite both times. In 2016, he opened up his very first solo restaurant, Tin Roof, in Kahului, Maui, a playful take on classic local dishes, including a variety of poke, kau kau tins, sandwiches, and noodles in take-out bowls. In 2021, Simeon released his first cookbook, Cook Real Hawai'i, showcasing 100 recipes that embody the culturally diverse flavors of the islands. His cookbook has been recognized on several Best of 2021 lists including recognition by The New York Times, The Washington Post, NPR, The New Yorker, Taste of Home, VICE, Serious Eats and Robb Report.
In 2022, Sheldon Simeon became a short-listed nominee for Best Chef Northwest & Pacific by the James Beard Foundation. He continues on his mission to showcase the many flavors of his homeland to a global audience.