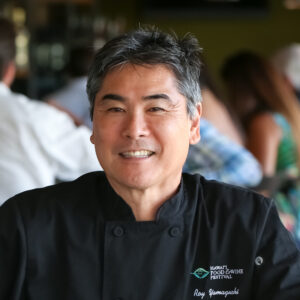 Roy Yamaguchi
Roy Yamaguchi Group of Restaurants - Honolulu, HI
Hawaii Food & Wine co-founder Roy Yamaguchi is a Japanese-American celebrity chef, restaurateur and founding member of the Hawaii Regional Cuisine movement. In 1993, he became the first chef from Hawaii to win a James Beard Foundation Award for Best Pacific Northwest Chef. He is the founder of Roy's® Restaurants, Beach House by Roy Yamaguchi, Eating House 1849, GOEN Dining+Bar by Roy Yamaguchi and Humble Market Kitchin.
His many honors include California Chef of the Year (California Restaurant Writers Association), Gault-Millau Top 40 (Forbes FYI), Top 50 Cuisines in America (Conde Nast Traveler), Fine Dining Hall of Fame (Nation's Restaurant News) and the John Heckathorn Dining Excellence Award (Honolulu Magazine).
Yamaguchi was born and raised in Tokyo, Japan. After graduating from the Culinary Institute of America in New York in 1976, he accepted positions at some of the most prestigious California restaurants at the time—L'Escoffier, L'Ermitage, Le Serene, Michael's, and Le Gourmet in the Sheraton Plaza La Reina. In 1984, Yamaguchi opened his first restaurant, 385 North in Hollywood, and in 1988 he moved to Honolulu to open the first Roy's Restaurant.
Yamaguchi is also known as a television personality, hosting six seasons of the PBS series, Hawaii Cooks with Roy Yamaguchi. He was featured on the Food Network's My Country, My Kitchen which took him back to his roots in Japan. Yamaguchi also competed on the first season of Bravo's Top Chef Masters and appeared as Iron Chef Asian, in Iron Chef USA.
In 2017, Yamaguchi partnered with Swiss-based MSC Cruises, the world's largest privately owned cruise company to open the Asian Market Kitchen, a specialty pan-Asian restaurant on board the cruise line's next-generation ship.
Yamaguchi serves as a trustee or board member for the U.S.-Japan Council, Go For Broke National Education Center, the Culinary Institute of America, and the Culinary Institute of the Pacific.