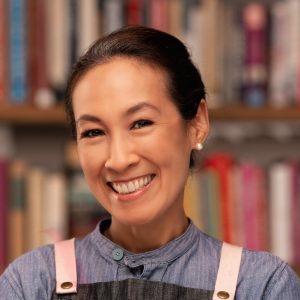 Robynne Maii
Fête - Honolulu, HI
Born and raised in Honolulu, Hawaii, Robynne Maii is chef and owner of award-winning restaurant – Fête, in Chinatown, Honolulu.
Maii has a culinary and pastry arts degree from KCC in Hawaii, a dance degree from Middlebury in Vermont and a master in food studies from NYU. She began her culinary adventure at 3660 on the Rise, cooking under Chef Russell Siu and Padovani's Bistro and Wine Bar, where she transitioned to full-time pastry cook under Chef Pierre Padovani.
In 1999, she moved to New York City where she worked at Union Pacific under Chef Rocco DiSpirito and at the Waldorf-Astoria Hotel in their pastry banquet kitchen, which was led by Chef Jean Claude Perrenou.
Maii worked for Gourmet magazine, City University of New York (CUNY) and has been a cookbook judge for the prestigious James Beard Foundation Awards since 2004.
Chef Maii returned to Hawaii to open Fete in 2015. This Summer, she opens her new restaurant, HeyDay at the newly restored White Sands Hotel in Waikiki.