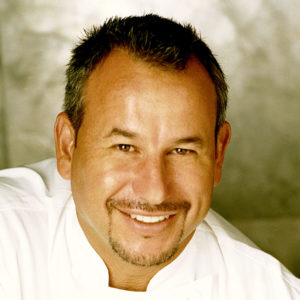 Raphael Lunetta
Lunetta - Santa Monica, CA
Born in Southern California, celebrated chef and personality Raphael Lunetta is recognized as one of Los Angeles' most respected chefs.  Lunetta grew up in a bicultural and bilingual family where cooking played an integral role in family life.  Every summer, his family spent time in the South of France at his aunt's 18th Century farmhouse where they enjoyed large family dinners cooked over open fires with fish caught fresh from the ocean and vegetables picked from their garden.  This setting began Raphael's love for light, simple French cooking.
In 1986, Lunetta moved to Europe to broaden his knowledge in the restaurant industry. He worked in Paris at Café Pacifico, La Perla, and Restaurant La Posté. After two years working in France, Lunetta returned home to Santa Monica to work in the kitchen at the just-opened Broadway Deli.  From 1990 through 1996, he worked his way through some of the city's top kitchens including the esteemed Patina, Capri in Venice and Jackson's in Beverly Hills.
The culmination was opening his own restaurant, JiRaffe, in Santa Monica in 1997. Lunetta became one of the city's most respected chefs and was honored in 1997 as Food and Wine Magazine's "Best New Chefs" and received the "Fine Dining Award" from Nation's Restaurant News.  Throughout his career, Lunetta participated in multiple national television shows including Knife Fight, My Country My Kitchen, Top Chef, and Beat Bobby Flay.
In 2017, Lunetta partnered with hospitality veterans Daniel Weinstock and Mike Garrett of Divide + Conquer, Inc. to open Lunetta and Lunetta All Day in Santa Monica.  At these restaurants, Lunetta continues to craft what he is best known for creating a warm, comfortable setting where simple, clean flavors and local ingredients take center stage