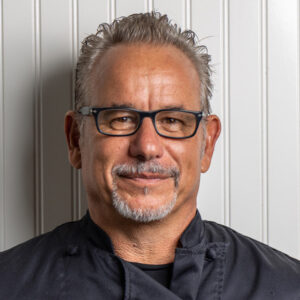 Raphael Lunetta
Lunetta - Santa Monica, CA
Born in Southern California, Raphael Lunetta grew up in a bicultural and bilingual home where cooking played an integral role in family life. Every summer, his family spent time at his aunt's 18th century farmhouse in the South of France. Together, they enjoyed large family dinners cooked over open fires using fish caught fresh from the ocean and vegetables picked from the garden. It was during this time that Lunetta learned the simple elegance of French cooking and developed his deep appreciation for local, sustainably harvested ingredients.
Raised in Santa Monica, Lunetta was an avid surfer and waterman, developing a deep respect and love for the ocean. He spent a year traveling the world on the Association of Surfing Professionals (ASP) tour. In between waves, he spent free time in kitchens and restaurants, immersing himself in the local cultures and cuisines.
In 1986, Lunetta followed his passion for food and moved to Europe to broaden his knowledge of the restaurant industry. He worked in Paris at Café Pacifico, La Perla, and La Posté. After two years working in France, Lunetta returned home to Los Angeles and cooked his way through some of the city's top kitchens, including the esteemed Patina, Capri in Venice, and Jackson's Beverly Hills. In 1997, he opened JiRaffe in downtown Santa Monica with co-chef and best friend Josiah Citrin, which became a pillar of the restaurant community for almost 20 years.
It was during this time that he gained national media attention, earning himself the 1997 Best New Chef Award from Food & Wine. He participated in the Aspen Food and Wine Classic, a James Beard Foundation Dinner, and was Celebrity Guest Chef for Chrystal Cruise's voyages in the Black Sea (1997), Australia Pacific Crossing (2000), South America (2006), and Alaska (2011). Lunetta has made dozens of appearances on Food Network shows Ready Set Cook, In Food Today, My Country My Kitchen, was a judge on Bravo's Top Chef, and appeared on Beat Bobby Flay in 2014. Every year, he looks forward to spending time in one of his favorite places on the planet and participating in the Hawaii Food and Wine Festival, where he enjoys working with the world's most talented chefs and the beautiful blue Pacific.
Raphael Lunetta is Owner/Partner and Chef Proprietor at Lunetta and Lunetta All Day in Santa Monica. Here he continues to craft what he is best known for: bringing people together while creating warm, comfortable settings where clean flavors and local ingredients take center stage.