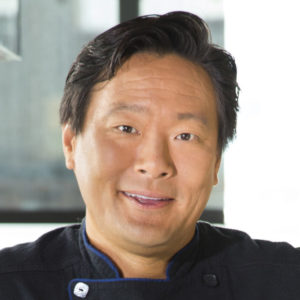 Ming Tsai
Blue Dragon - Boston, MA
Ming Tsai's love of cooking was forged in his early years. Tsai was raised in Dayton, Ohio, where he spent hours cooking alongside his mother and father at Mandarin Kitchen, the family-owned restaurant. His experience also taught him about restaurant operations and the art of making customers happy. Tsai headed east to attend school at Phillips Academy Andover. From there, Tsai continued to Yale University, earning his degree in Mechanical Engineering. During this time, Tsai spent his summers in Paris, attending Le Cordon Bleu cooking school and apprenticing in area restaurants. After graduating from Yale, Tsai moved to Paris and trained under renowned Pastry Chef Pierre Herme and then on to Osaka with Sushi Master Kobayashi. Upon his return to the United States, Tsai enrolled in graduate school at Cornell University, earning a Master's degree in Hotel Administration and Hospitality Marketing. 
In 1998, Tsai went beyond with his innovative East-West cuisine. In its first year, Blue Ginger received 3 stars from the Boston Globe, was named "Best New Restaurant" by Boston Magazine, and was nominated by the James Beard Foundation as "Best New Restaurant 1998". That same year, Esquire Magazine honored Ming as "Chef of the Year". The James Beard Foundation Tsai was crowned "2002 Best Chef Northeast" and, since 2002, the Zagat Restaurant Guide has rated Blue Ginger within the "Top 5 of Most Popular Boston Restaurants". In 2007, Blue Ginger received the Ivy Award from Restaurants & Institutions for its achievement of the highest standards in food, hospitality and service. In 2009, Tsai and Blue Ginger won IFMA's Silver Plate Award in the Independent Restaurant category recognizing overall excellence in the country. Most recently in November 2012, Boston Magazine ranked Blue Ginger as one of The 50 Best Restaurants. Blue Ginger officially closed as of June 3, 2017 after 19 years of dedication and wonderful service. Blue Ginger provided Chef Tsai with a national platform to make thousands of people happy through food, but truly created a family among staff, managers and regulars.
In February 2013, Ming opened his second restaurant Blue Dragon – an Asian gastro pub located in the Four Point Channel area of Boston. The tapas-style menu features Ming's East-West approach but now takes a twist on traditional pub favorites. Blue Dragon was named one of Esquire Magazine's "Best New Restaurants 2013" and one of Zagat's "24 new restaurants you need to know about around the US".
Tsai serves as the President of the National Advisory Board for the Family Reach organization, a non-profit whose mission is to provide financial relief and support to families fighting cancer.  Tsai is also a national spokesperson for the Food Allergy Research & Education (FARE) organization and is proud to have developed the Food Allergy Reference Book. First used at Blue Ginger, the Reference Book is a pioneering system that creates safeguards to help food-allergic people dine safely. For four years, Ming worked with Massachusetts Legislature to help write Bill S. 2701, which was signed into law in 2009. This groundbreaking legislation, the first of its kind in the US, requires local restaurants to comply with simple food allergy awareness guidelines.
In 2012, Tsai was invited by Secretary of State, The Honorable Hillary Clinton, to represent the U.S. with the Diplomatic Culinary Partnership Initiative/American Chef Corps.  The Chef Corps is a network of chefs from around the country that participate in a number of official government programs that use food as a foundation for public diplomacy efforts at home and abroad. Tsai is currently an Advisory Chef for Ment'or and Team USA for the Bocuse d'Or, the world's most prestigious culinary competition.
Tsai is the host and executive producer of the public television cooking show, SIMPLY MING, currently celebrating its seventeeth season. In 2009, SIMPLY MING received two Emmy nominations in the categories of 'Outstanding Culinary Program' and 'Outstanding Culinary Host,' and received two Bronze Telly Awards for 'Lighting' and 'Art Direction.' In  2011, SIMPLY MING received a CINE Golden Eagle Award.  His SIMPLY MING video podcasts feature tutorials on everything from filleting fish to food allergy basics (available on ming.com and YouTube). Tsai began cooking for television audiences on the Food Network, where he was the 1998 Emmy Award-Winning host of East Meets West with Ming Tsai. Ming's Quest, his popular cooking adventure series, also aired on Food Network. In the summer of 2008, Ming traveled to the Beijing Olympics with NBC's Today show to provide viewers with insight into food customs and traditions that define his Chinese heritage.  In addition to television, Tsai is the author of five cookbooks: Blue Ginger: East Meets West Cooking with Ming Tsai, Simply Ming, Ming's Master Recipes, Simply Ming One-Pot Meals and  Simply Ming in Your Kitchen.
Tsai successfully debuted his SIMPLY MING Kitchen Collection on Home Shopping Network (HSN) in 2013. This extensive, high-quality line of uniquely engineered products include knives, cookware, cutting boards and a variety of small appliances. The SIMPLY MING Kitchen Collection was one of HSN's most successful culinary launches.
A long-time member of the Harvard School of Public Health's Nutrition Round Table, Tsai also supports many charities including Family Reach, a foundation that is very close to his heart.  Tsai  is the President of the National Advisory Board of Family Reach and created the incredible event Cooking Live. Since his involvement, Tsai has helped raise over $8 million dollars for Family Reach. In addition to Family Reach, Tsai is on the National Advisory Board for Squash Busters, Lovin' Spoonful, The New England Aquarium and Mentor. He also supports charities including Big Brothers Big Sisters, the Cam Neely Foundation, Common Threads and The Greater Boston Food Bank.