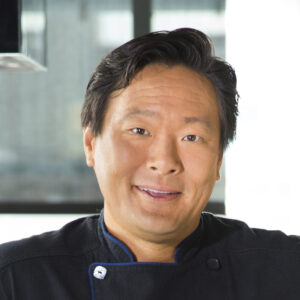 Ming Tsai
MingsBings - Natick, MA
Chef Ming Tsai is a James Beard & Emmy Award-Winning chef, philanthropist, T.V. personality and entrepreneur. He is the creator of award-winning restaurants, author of five cookbooks, and current host/executive producer of PBS-TV's Simply Ming. In 2022, Tsai became Iron Chef Ming Tsai as he joined the cast of 5 world-class chefs in the Netflix series Iron Chef: Quest for an Iron Legend. 
In 2020, Tsai founded MingsBings—a nationally recognized, award-winning, consumer-packaged goods startup. MingsBings brings healthy, plant-based, gluten-free, convenience to the frozen food aisle. MingsBings are now sold in over 2,000 retail stores, including Target and Wegmans, and are also available at venues including Yale University, TD Garden, and Fenway Park. From inception, some proceeds have benefited two charities close to Tsai's heart: Dana Faber and Family Reach.
Beyond his contributions through MingsBings, Tsai lives by a "Do Good" mentality. He is the Chairman of the National Advisory Board for Family Reach and has helped raise over 10 million dollars for the foundation since 2012. Ming Tsai is a leading voice for stop AAPI hate initiatives, including partnering with Harney & Sons to create his "Be Kind" tea blend, contributing all proceeds to stop AAPI hate initiatives. He is also a chef ambassador for World Central Kitchen—he has raised over a million dollars for the organization and has cooked alongside José Andrés when needed.
Tsai has appeared in publications from Esquire to The Boston Globe, was featured on People magazine's list of 50 most beautiful people, and is a regular contributor on Good Morning America. He recently went viral through his engaging social media educational cooking videos, passing 200 million views as a top content creator.