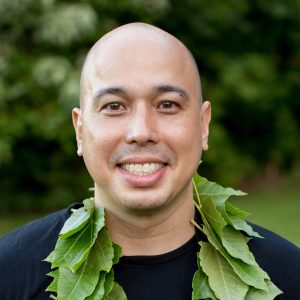 Mark Pomaski
Moon & Turtle - Hilo, HI
Chef Mark Pomaski had his professional start in the kitchen of Shiki, a Japanese restaurant, in Eugene, Oregon. While at Shiki, Pomaski met Tetsuya Ozaki, a third generation sushi chef from Osaka, and went from working the line in the kitchen to the sushi bar.
Under Ozaki San, Pomaski not only learned the fundamentals of sushi, but the craft of fine Japanese knife skills. After leaving Shiki, he worked in Seattle before making his way back home to the islands.
In 2007, Pomaski was hired on as head sushi chef for Roy's Restaurants newest location, Roy's Waikiki. He became the corporate sushi chef for the company and helped build and maintain the sushi program for all of Roy's Hawaii restaurants. In 2011, he and his wife Soni moved to New York City where he worked as a sushi chef for Nobu 57. In 2013, the Pomaski family took over the Full Moon Café a Thai restaurant in Hilo from the Maloof family and changed it to an international menu with a pacific emphasis and a strong focus on fresh and raw fish.
Since opening in 2013, the restaurant (which was renamed as Moon & Turtle) has received numerous accolades including several Bronze Hale ʻAina Awards for Best Big Island Restaurant, Criticʻs Choice for Best Neighbor Island Restaurant at the 2015 Ilima Awards and features in both local and national publications.