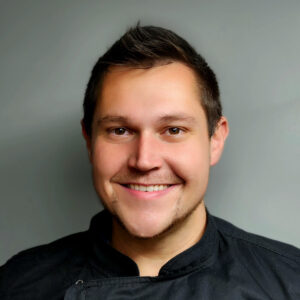 Lenny Messina
Restaurant LOLA | Hudson Valley Foie Gras - Great Neck, NY
Lenny Messina is the executive chef and partner of Restaurant LOLA, as well as culinary liaison for Hudson Valley Foie Gras. Working alongside Chef Michael Ginor, LOLA has become a multi-award winning pan-Mediterranean restaurant and culinary destination in New York.
Born to a Pastry Chef, Messina's passion for food began at a very young age. Since the start of his career, Messina has been awarded accolades from various notable organizations such as: The New York Guild of Baking and Pastry, Société Culinaire Philanthropique, and Skills USA.
In 2012, Messina and his team went on to win the New York State, Northeast Region, and National Championship for the American Culinary Federation which jumpstarted his career and further intensified his love for the culinary arts.
Lenny Messina has gone on to pursue international culinary events worldwide and holds strong involvement in charities such as: Autism Speaks, The James Beard Foundation, No Kid Hungry, and Share Our Strength.