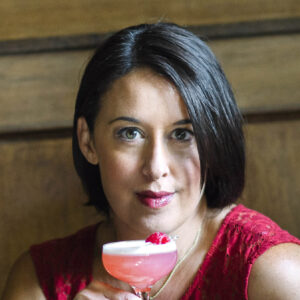 Julie Reiner
Clover Club, Milady's & Leyenda - New York, NY
Julie Reiner is the co-founder of world-renowned cocktail bars, Clover Club and Leyenda in Car- roll Gardens, Brooklyn, and Milady's in Soho. She is also the author of The Craft Cocktail Party: Delicious Drinksfor Every Occasion (2015). Julie has been elevating the cocktail scene in NYC for 25 years starting with her first bar Flatiron Lounge (2003) followed by The Pegu Club (2005).
This year, she made her television debut as a judge on the first season of Netflix Drink Masters.
Julie drew much of her inspiration from her upbringing in Hawaii by utilizing the freshest fruits and premier qualityspices & spirits available in her original cocktails. Julie's award-winning beverage program at Clover Club is highly focused on classics and furthers her signature style of superior quality and green market ingredients. In2015, Julie opened Leyenda, a pan Latin
bar and restaurant with Ivy Mix, a long-time bartender at Clover Club. Leyenda celebrates the
spirits and imbibing traditions from across the Spanish-speaking world and beyond. Julie made her return toManhattan in 2022 with the opening of Milady's, named after the famed SoHo dive bar that entertained patrons ofall stripes for over 70 years until it closed in 2014. The ad- dress is the same, but the new Milady's (opened Fall 2022) is updated with with Reiner's signa- ture focus on quality and a lighthearted, nostalgic vibe.
In 2017, Julie and her Clover Club partner, Tom Macy set out to bring to life their dream of cre- ating bar quality cocktails in a can. From recipe formulation to branding and package design, they were determined to bring their unique style of cocktail making to the masses. Social Hour launched in August of 2020 in New York and has since expanded to New Jersey and Florida.
Their goal is to grow Social Hour into an RTD brand that will redefine how exceptional a pre- mixed cocktailcan be.
In 2011, Julie was honored with a James Beard nomination for spirits professional of the year; in 2015, she was named Wine Enthusiast's Mixologist of the Year; and in 2022, she was awarded the prestigious Tales of the Cocktail Helen David Lifetime Achievement Award.
Julie's recipes have been featured in The New York Times, New York Magazine, Food & Wine, Imbibe, The Wall Street Journal, Esquire, Playboy, Gourmet Magazine, Food Arts, Bon Appetit, GQ, Fortune, WineEnthusiast, O Magazine, Crains, Time Out NY and Time Out London, The Lon- don Times, and Wine & Spirits. Julie has also been featured on The Today Show, The Food Net-
work, the Cooking Channel, Martha Stewart Radio, CNBC, LXTV, the Fine Living network, and she starred asa judge on Netflix's Drink Masters (2022).