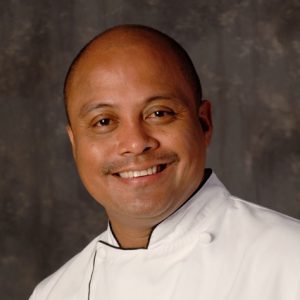 Joey Macadangdang
Joey's Kitchen & Macadangdang Restaurant - Lahaina, HI
Joey Macadangdang, born in the Philippines, grew up working on his family's farm piggery, poultry, and rice business.
At a very young age, not only did he learn to harvest, he learned how to cook rice, which sparked his passion for food. In 1983, he immigrated to Hawaii along with his parents and four brothers. At the tender age of fourteen, Macadangdang began his journey at Erick Seafood Grotto as a dishwasher, busboy, and cook.
In 1987, Macadangdang made a bold move, leaving behind what had become his island home to Oregon and worked as a chef under the late prominent businessman, Butch Ogawa at Kampai Restaurant in Hood River. Then in 1994, he joined Roy's Restaurant starting out as a Line Cook and moving up to become a Sous Chef. Thereafter he was named Executive Chef in 2001, helping to open Roy's Kihei and additional Roy's Restaurant locations on Maui.
As his reputation grew, Joey Macadangdang was sought out by the Cohn Restaurant Group in 2004 to open Pineapple Grill on the world-renowned golf course of Kapalua Bay. In 2012 he found his way back to Roy's Restaurants as a Corporate Chef and polished his signature flair for Asian-Local Island infused dishes.
Macadangdang took a leap of faith in 2015 to make his dream of becoming a restaurant owner a reality. Joey's Kitchen opened up in Whaler's Village Shopping Center that year. Macadangdang prides himself on using locally grown, raised, and caught products to create a farm-to-table service.