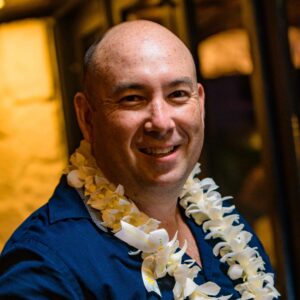 Jason Peel
Nami Kaze - Honolulu, HI
Hailing from Kauai, with a foundation built from humble Japanese culture and strong Irish spirit, Jason Peel discovered his passion early in life. Raised in a family of educators, Peel began college studying engineering, then architecture.
It wasn't until a friend was opening a bar and grill, that he started his creative culinary journey. Deciding to follow his passion, Peel enrolled at Kapiolani Community College to study Culinary Arts. A year and a half later he met his first mentor, Ian Russo of Michele's at the Colony Surf and later became his Sous Chef. When Russo moved back to New York, Peel was inspired by a new mentor—Roy Yamaguchi. Roy's Asian influence expanded his palate further, as did traveling for events in Thailand, Korea and Dubai. Eventually, Peel helped to open Roy's in Waikiki serving Pacific Rim Cuisine.
Inspired by his family's roots in education, Peel returned to Kapiolani Community College, this time as an instructor. Peel taught various culinary courses at the Community College for six years, travelling with students to culinary competitions while watching students grow and create with their hands and hearts.
During this time, Jason Peel teamed up once again with Roy Yamaguchi and his wife, Denise, to become the Executive Chef for the Hawaii Food and Wine Festival. Peel later decided to return to the industry, helping a friend open multiple restaurants through a grueling year and a half, through COVID. Now, Peel has ventured on his own, opening Nami Kaze, Modern Izakaya and Sushi Bar in June 2022.
Today, Peel aims to grow a family of culinary enthusiasts, creating opportunities for the younger generation while appreciating and incorporating the ideas of the veterans of the trade—fostering a place of harmony, trust and compassion.