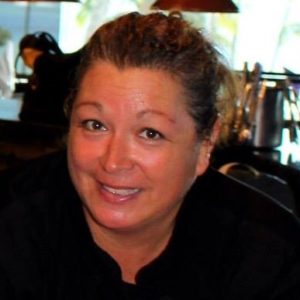 Jacqueline Lau
Sysco Hawaii - Honolulu, HI
Jacqueline Lau began working for Roy Yamaguchi a few weeks after he opened his original Roy's® Restaurant in Honolulu in late 1988. Beginning as a pastry chef, she quietly became adept at all phases of Roy's Kitchen operation, rising to the position of Yamaguchi's first Chef de Cuisine. Chef Yamaguchi then sent Jacqueline to Japan as the opening chef for his first international restaurant, Roy's® Tokyo.
This was the beginning of her culinary adventure. Traveling the world with Chef Yamaguchi, working side by side with Chef Roy at many of the country's top culinary events, and opening his restaurants abroad, Hawaii and on the mainland. Jackie was Executive Chef at Roy's® Original Honolulu restaurant, Roy's® Nicolina, Roy's Waikoloa and then Corporate Chef for Roy's ® Hawaii restaurants for 16 years. Over the 27 years working for Roy's restaurants she opened over a dozen restaurants and organized many of the company's special events as well aiding Chef Roy during his guest appearances on the mainland and internationally.
Lau has participated in many outstanding culinary events across the country and abroad including events for the Hawaii Visitors and Convention Bureau, Sagebrush Classic, Aspen Food and Wine Festival, The James Beard House, Great American Seafood Challenge and The World Gourmet Summit. Jacqueline has been featured in several television series including: "The Great Chef" series ("Great Chefs of Hawaii" and "Great Chefs of the World"), "Hawaii Cooks with Roy Yamaguchi" and "Island Chefs." She has also been recognized in the Hawaii Business News as one of the leading women chefs in Hawaii. She is also active with speaking at the public schools both at elementary and high school levels regarding the culinary field. Most recently she was honored by her peers with the Hawaii Restaurant Association as an Inductee to the Hawaii Restaurant Hall of Fame.
Jacqueline has been the chef organizer for many events in the state of Hawaii and on the Mainland.  Most recently she was the Executive Chef for the Hawaii Food and Wine Festival during its first 5 years.  Responsible for organizing over a 100 world renowned Chefs culinary needs with an emphasis on utilizing local Hawaii products for the guest chefs to feature in the menus during the festival. Currently she works for HFM Foodservice / Sysco Hawaii as a Culinary Specialist and has her own company Chef Jax Kitchenette where she does restaurant consultation as well as menu development, teaches private culinary class, private dinning events and product development for startup business in Hawaii.