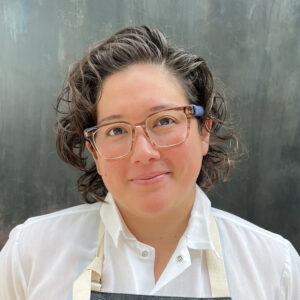 Gaby Maeda
State Bird Provisions - San Francisco, CA
Gaby Maeda grew up in Honolulu, Hawaii where she had exposure to several different types of cuisine. She spent two years cooking at Hiroshi's Eurasian Tapas in Honolulu where she realized that cooking was what she wanted to pursue in life. The parallels in diversity between Hawaii and the Bay Area made San Francisco the obvious choice for her next destination. Added to that, the plethora of amazing farms, ranches, vineyards and seafood makes San Francisco any young chef's dream city to cook in.
Following her graduation from the California Culinary Academy in 2009 Maeda accepted an externship at Restaurant Gary Danko. Over the next five years of working on the line she established a foundation of culinary technique and skill.
In 2014 Maeda accepted a job as a line cook at State Bird Provisions and she has worked her way up through the ranks to Executive Chef. Under the guidance of chefs Stuart Brioza and Nicole Krasinski, she was taught how to taste food in ways that were new to her, create flavors that were a blend of what she knew from her upbringing and their evolved Californian cuisine, build strong relationships with local purveyors and, most importantly, treat your staff with respect.
In 2020, Gaby Maeda was nominated as a finalist for the James Beard Rising Star Chef of the Year Award and in 2021 she was named one of Food & Wine's Best New Chefs. She continues to run the kitchen at State Bird Provisions every night and loves to mentor the next generation of cooks and chefs.