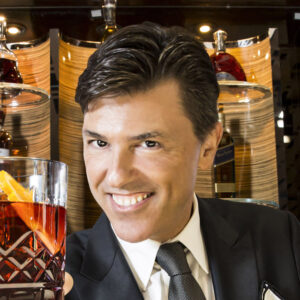 Francesco Lafranconi
Carver Road Hospitality - Las Vegas, NV
One of the world's foremost mixologists, Francesco Lafranconi is the Executive Director of Mixology and Spirits Educator for Southern Wine and Spirits of Nevada.
Francesco's personal appeal and industry knowledge has made him a hit with his A-list celebrity clientele, world-class corporate clients, national restaurant chains, international hotel companies and the thousands of people who've attended his seminars and live events. His distinguished career includes tenures at the helm of some of the world's leading hotel bars from The Gleneagles in Scotland to The Palace Hotel in Gstaadt, Switzerland. One of his proudest achievements is founding the Academy of Spirits and Fine Service, a 12-week education program that has trained over 1,000 beverage professionals. Most recently he was awarded Best In Show at the Iron Mixologist Competition sponsored by Wine & Spirits Wholesalers Of America.
Winner of many high-profile print awards including the Bartender Hall of Fame Award from Bartender's Magazine, the Raising the Bar Award from Cheers Magazine, Mixologist of the Year Award from Nightclub and Bar Magazine, Spirit Professional of the Year from Santé Magazine and Tales Of The Cocktail's Golden Spirit Award. He also contributes with his mixology expertise to national publications like the Robb Report Magazine's Host Guide since 2009. Lafranconi recently designed and oversaw fabrication of an innovative under bar work station know as The Racetrack.
Francesco Lafranconi is an honorary member of The United States Bartenders Guild, and a National Ambassador and Founding Member of the US Bartenders Guild Master Accreditation Program as well as Member of the Museum of the American Cocktail. Since 2010 Francesco has been a member of the San Francisco World Spirits Competition. He owns the Level 1 Sake Certification by the Japanese Sake Council and he is also an international Cognac Ambassador appointed with Gold Diploma by the B.N.I.C. (Bureau National Interprofessionnel du Cognac). In March 2015, he graduated from the Luis Ayala Rum University.