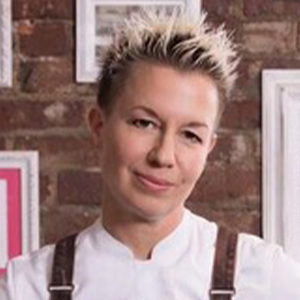 Elizabeth Falkner
Falk Yeah! Productions - Los Angeles, CA
Celebrated chef Elizabeth Falkner, chef, TV Host and Filmmaker, is among the esteemed women featured in the film A Fine Line.
"We hope the discussion brings to light the fact that women are grossly underpresented in top positions in the culinary field, and how we might be able to change this gender inequality in the industry."
Falkner was born in San Francisco, grew up in Los Angeles and moved and worked her way up in kitchens in San Francisco in the 1990's through 2011. She has owned and opened several restaurants in SF and then as an executive chef in New York through 2014. Today she does recipe development and consults and collaborates on numerous products and brands. She is an inspiring public speaker appearing across the country as well as around the world.
She relentlessly cooks and raises money for charity events and food festivals all over. Falkner does both savory and sweet, traditional and modern. She is an advocate for people and chefs to think more like athletes and "stay fit to cook". After playing soccer for 28 years, she picked up sword fighting fitness and martial arts, yoga, pilates and running distance races. She ran the NY Marathon in 2016 for Team For Kids. In May 2019 Falkner rode 300 miles in Chefs Cycle for No Kid Hungry raising money for kids and will do it again in Bend, Oregon in 2021.
Cooking competitions are a favorite "sport" for Chef Falkner. She has appeared on over 40 of the television cooking competition programs on Food Network, Cooking Channel, and Bravo, NBC, as well as made appearances on many other shows. She has appeared in many food magazines, and has received multiple awards, as well as a nomination for a James Beard Award (2005).
Falkner was a long time member and on the board of directors who served as the president of Women Chefs & Restaurateurs from April 2014 to April 2015 and in January 2019 through January 2020. She is currently on the womens leadership council for the Beard Foundation.
A graduate from San Francisco Art Institute with a BFA in film, Falkner has produced two short films with food themes in 2018; "Food Games-Sustainability" which she also hosted, and a documented performance piece called "Croquembouche Samurai" she performed at SoHo House in NYC.
During the COVID-19 pandemic, Falkner hosted and co-produced a documentary about the state of the restaurants and chefs during the fallout (coming soon). She is also "Head of Candy for "Behave," a better-for-you candy product line launching in August 2020.