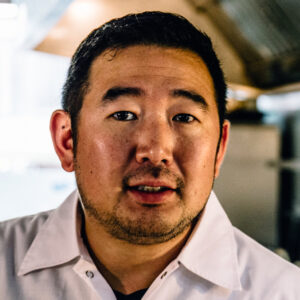 Danny Lee
Mandu/CHIKO/Anju - Washington, D.C.
In 2006, Danny Lee and his mother, Yesoon, decided to open their own restaurant, one that played to their strengths and represented their culinary traditions and culture. They opened Mandu, DC's first full service Korean restaurant, near Dupont Circle.   Five years later, the family opened a second location in DC's Mount Vernon Triangle neighborhood.
In 2017, Lee started a new restaurant group with Chef Scott Drewno called The Fried Rice Collective.  The group's first restaurant, CHIKO, opened in July of 2017 on Barrack's Row in Washington, DC.  CHIKO serves modern Chinese and Korean cuisine in a fun and casual environment.  CHIKO has since expanded with additional locations in DC, Virginia, Maryland, and Encinitas, CA.
CHIKO has been awarded three-star ratings from both the Washington Post and Washingtonian, and was also nominated as a James Beard Award semifinalist for Best New Restaurant in the country in 2018.  The Restaurant Association of Metropolitan Washington awarded CHIKO Best New Restaurant at the 2018 RAMMY Awards as well as Best Casual Restaurant in 2020.
The original Mandu location suffered a fire in the summer of 2017.  Due to his family's history in the building, Lee wanted to stay and rebuild, but open as a new concept.  In the summer of 2019, Anju opened, with The Fried Rice Collective partnering with the Lee family.  Anju serves eclectic Korean cuisine in a vibrant atmosphere, paying homage to both traditional and modern aspects of Korean culture.
Anju immediately garnered a three-star review in the Washington Post, and the Washingtonian awarded Anju with a 3.5-star rating along with naming Anju the #1 restaurant in their 2020 100 Very Best Restaurants issue.
Lee was nominated as a James Beard Award semifinalist for Best Chef Mid-Atlantic in the Spring of 2020.  In the fall of 2021, Lee was listed on the Washington Business Journal's Power 100, being recognized for the anti-racism initiatives he had taken part of or started. In 2022, Lee and his business partner Scott were nominated for Restaurateurs of the Year for the 2022 RAMMY Awards.
Lee has been featured in several national and local publications and media outlets, such as the Wall Street Journal, Food and Wine, Bon Appetit, Food Network, Men's Health, Washington Post, Washingtonian, and many more.  Most notably, Lee and his mother are featured in the HBO Max series Take Out With Lisa Ling, exploring the history of Korean cuisine in the Washington, DC area.