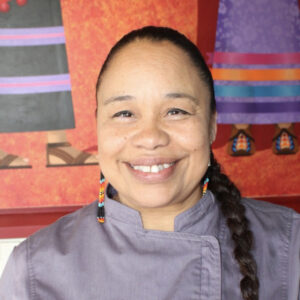 Crystal Wahpepah
Wahpepah's Kitchen - Oakland, CA
Crystal Wahpepah of the Kickapoo Nation of Oklahoma is the Owner and Executive Chef of Wahpepah's Kitchen in Oakland, CA.
Wahpepah understands the deep and powerful role that food has in our lives and uses it as a bridge to connect others with Native issues that are important to her and Wahpepah's Kitchen by acknowledging the Indigenous inhabitants of the land upon which we currently live, acknowledge and reclaim native food ways. Through this connection, Wahpepah is able to educate others on the health benefits of Indigenous foods through the knowledge that has been passed to her.
Wahpepah has been inducted to the Native American Almanac for her work. She has appeared on Food Network's TV show Chopped and was a James Beard Award finalist for Emerging Chef in 2022.
Wahpepah opened the first Native woman-owned restaurant in Northern California. Wahpepah's Kitchen was the best new restaurant of the Bay Area in 2022. Wahpepah also cooked for the White House Hunger Conference with the James Beard Foundation as well as the Academy of Motion Picture of Arts and Sciences.
Watch the horizon closely for what's next for Chef Crystal Wahpepah of Wahpepah's Kitchen!