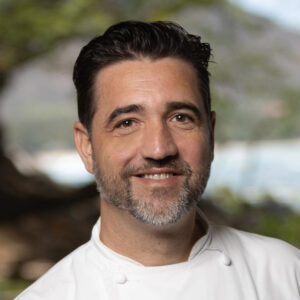 Christian Testa
Halekulani - Honolulu, HI
Christian Testa is the Executive Chef at Halekulani, where he is responsible for leading the culinary operations at Halekulani and Halepuna Waikiki.
Born and raised in Genova, Italy, famed for its exquisite seafood, Testa is a master of Italian food, preparing each dish with elegance and simplicity and utilizing the finest of locally sourced and global ingredients. His extensive culinary experience globally includes La Gloutonneire Miami Beach; Restaurant Lucca in Hotel Grand Velas Riviera Maya, Mexico; Hotel Presidente Intercontinental in both Mexico City and Puerto Vallarta; Hotel Excelsior Palace Rapallo in Genova, Italy; and the legendary Splendido Hotel (Oriente- Express) in Portofino, Italy.
Testa joined Halekulani in October 2016 as Orchids Chef de Cuisine, moving the restaurant to a Mediterranean focused theme, creating signature dishes from elegant ocean fare to homemade pasta while keeping the restaurant a favorite to local and hotel guests. He was instrumental in developing the hotel's renewed wellbeing focused menu as his style of cooking is healthy and light, with an emphasis on grilling and using fresh ingredients. Testa's expertise stretches far beyond Italian cuisine; overseeing the various meals at Orchids showcases his range of international dishes for breakfast and lunch, as well as Sunday Brunch.
Under his direction, Orchids recently became the "reference restaurant for outstanding Italian cuisine in Hawaii" from the Honorary Consul of Italy for the State of Hawaii. Christian Testa is also featured in Best Chefs America, an industry peer review guide of the nation's most talented and respected chefs.
On his days off, Testa enjoys spending time with his family, playing tennis, watching soccer and going to the beach. Lanikai is one of his favorite beaches!