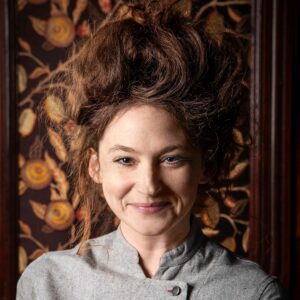 Caroline Schiff
Gage & Tollner - New York, NY
Caroline Schiff is the Executive Pastry Chef at Gage & Tollner, author of The Sweet Side of Sourdough, and James Beard Outstanding Pastry Chef Award Nominee 2022.
Widely known under the Instagram moniker @pastryschiff, Caroline Schiff is a celebrated Pastry chef, culinary consultant, and recipe writer and developer based in Brooklyn. She got her start in the restaurant industry over a decade ago and worked her way up through a number of acclaimed restaurants and bakeries before taking her current position at Gage & Tollner.
Schiff's signature gravity-defying hairdo is outsized only by her enormous heart; in her spare time you can find her either supporting charitable causes or running a marathon.