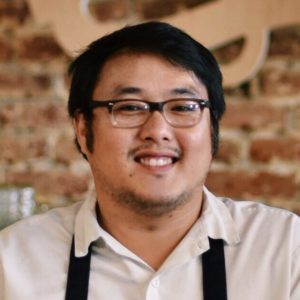 Andrew Le
The Pig & The Lady - Honolulu, HI
Considered one of the "new kids in the kitchen" in the Hawaii Regional Cuisine movement, Andrew Le is creating and adding his own flair to Hawaii's culinary scene by using his cultural roots to inspire his tastes. Creator, owner and chef, Le is the mastermind behind the innovative restaurant, The Pig & The Lady.
Le is currently the only chef among Hawaii's culinary cognoscenti cooking contemporary food built on Vietnamese flavors—a foundation built on delicious memories first introduced by his mother.
Along Le's gastronomic journey, he has learned how cooking can bring people together: everyone from the farmer, to the rancher and fisherman, and of course, to the restaurant staff and the diner. Born and raised in Honolulu, Le attended the Culinary Institute of America in New York and graduated in 2006. Soon after, he landed a job at Chef Mavro—considered one of Hawai'i's finest restaurants—working under the tutelage of namesake Chef George Mavrothalassitis, founding member of the Hawaii Regional Cuisine movement, and Chef Kevin Chong, a James Beard Award semi-finalist.
After five years working at Chef Mavro, Le decided it was his time for people to experience his own cooking and launched The Pig & The Lady in the summer of 2011, causing an immediate buzz and following among foodies. Andrew Le is also a 2012 Rising Star Chef awardee from StarChefs.com.