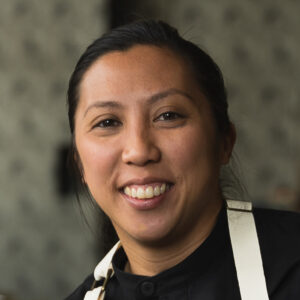 Tara Monsod
ANIMAE - San Diego, CA
Tara Monsod brings over a decade of kitchen experience, a lifetime of passion, and a culinary perspective shaped by her upbringing as a Filipino-American to Puffer Malarkey Collective's ANIMAE. Cooking since she was tall enough to reach the counter in her parent's kitchen, Monsod never considered food as a viable career path, instead pursuing nursing. It was only a year into her education when she realized she wanted to be a chef, so off she went.
Monsod's culinary journey started at Tender Greens and from there moved to some of San Diego's most prominent restaurants, including a stint on the opening kitchen team at Richard Blais' Juniper & Ivy, where she learned the importance of utilizing all parts of an ingredient, whole animal butchery, and the subtle art of playing with food. Monsod held line cook positions at Brian Malarkey's Herringbone & Burlap, and Nancy Silverton's Mozza.
Joining the team as Executive Sous Chef at ANIMAE, Tara Monsod studied under James Beard Award Winner Nate Appleman. Under his encouragement, she continued to hone her fine-dining craft, while also experimenting with pushing forward the Filipino flavors she's always known.
Monsod's executive chef-style mirrors that of her mentor, Anthony Sinsay. Working alongside Celebrated Chef Brian Malarkey, her interpretation of ANIMAE's culinary origins give diners a chance to experiment with new dishes, like the Som Tam Salad, the Corn Scallion Karaage, and the Kare Kare Short Ribs with bagoong peanut oil.
Mirroring Malarkey's emphasis on hospitality and generosity, Monsod can be seen walking the dining room on any given night, greeting guests, engaging, and educating them on a particular spice or cooking technique. Monsod hopes to become a culinary ambassador and mentor to the legions of Asian American and Pacific Islander cooks who are looking to break into the restaurant industry.
On her days off, Monsod enjoys spending time with her wife, pot-bellied pig Biggie Smalls, and dog Mya.