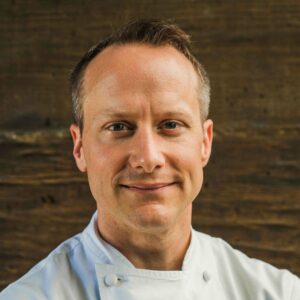 Philip Tessier
Press - Napa, CA
Philip Tessier, Chef/Partner of PRESS St. Helena, was the first American chef to ascend the podium triumphantly at the internationally renowned Bocuse d'Or, garnering the silver medal. With pride, he rose through the ranks at three of the world's most revered restaurants, Michelin three-starred Le Bernardin and Per Se in New York and The French Laundry in Yountville.
At 16, he landed his first restaurant job at the Williamsburg Inn in Virginia, where he worked his way up from garde manger to cooking on the breakfast line. At the suggestion of one of its cooks, Tessier enrolled at the Culinary Institute of America at Hyde Park at age 17, becoming one of its youngest students. After graduating, he stayed at the school for another year, working as a cook and server at its campus restaurant, and teaching new incoming students, before going to France on the advice of another colleague to stage with Roger Verge at his legendary Le Moulin de Mougins.
After returning to the United States, Philip Tessier trained at Eric Ripert's Le Bernardin before being hired as a Sous Chef on the opening team of Per Se in 2004, then relocating to Yountville to continue his work with Chef Thomas Keller, first as Chef de Cuisine of Bouchon Bistro, then as Executive Sous Chef of The French Laundry.
The value of teamwork and mentorship not only stayed with him but magnified over the years. After finishing second at the Bocuse d'Or in 2015, he returned the following year to coach Team USA to its monumental gold medal victory. He also helped design a replica Bocuse d'Or kitchen first temporarily at Hestan, then permanently at the CIA in Napa. Tessier was also instrumental in ensuring future competitors have all the resources necessary during training, including more assistants. All in all, it established the model for Team USA going forward, an achievement of which he is incredibly proud, and documented in his book "Chasing Bocuse" published in 2017 by Prestel.