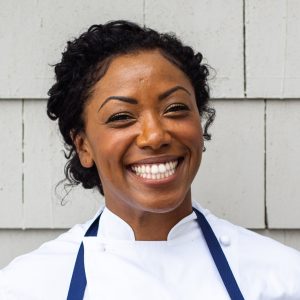 Nyesha Arrington
Pier Love Food Group - Santa Monica, CA
Chef Nyesha Arrington has been in love with the kitchen since cooking alongside her Korean grandmother. Born in Southern California, Arrington was introduced early to diverse foods such as bulgogi, octopus, and homemade kimchi at a young age. These first stages of culinary experiences infinitely shape Arrington's palate development and her ideas about cooking and culture.
By integrating flavors and techniques from around the world, Arrington is able to create a global style that is both personal and unparalleled. A graduate of the Art Institute of California in Los Angeles, Arrington has been praised by the legendary Joel Robuchon and renowned French Chef Claude Le Tohic.
Arrington is celebrated for her advocacy of using farm fresh, local, and responsibly sourced ingredients and has been featured in Food & Wine, GQ, Cooking Channel, Essence, and her accomplishments in the culinary industry continue to evolve.
Local farmers and big business alike continue to advocate for her culinary vision of the world. Nyesha Arrington has headlined Austin Food & Wine Festival, New York Food Festival, and was featured on the cover of The Rachael Ray Everyday (March 2019) and Delta Airlines' Sky Magazine.
Her greatest enthusiasm will always be nurturing people and creating "Food that Hugs the Soul." Arrington continues to innovate by drawing from inspirations of her diverse cultural background and French-technique while maintaining her mission to spread the message of love through food, using every plate as a new journey of creativity.