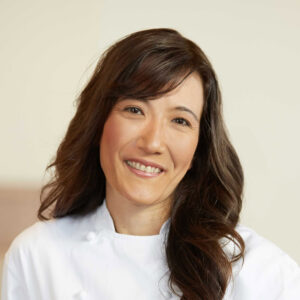 Michelle Karr-Ueoka
MW Restaurant & Artizen by MW - Honolulu, HI
Born and raised in Honolulu, Hawaii, Michelle Karr-Ueoka graduated from Punahou School and went on to obtain a degree in Travel Industry Management at the University of Hawaii. While in the program, Karr-Ueoka's passion for cooking was ignited after an externship at Alan Wong's Honolulu. Pursuing her dream, Karr-Ueoka attended the Culinary Institute of America in Hyde Park, New York, during which she completed a stage at Daniel, and an externship at The French Laundry.
She rejoined Alan Wong's where she spent six years on the savory side. It was during a subsequent stage at Thomas Keller's Per Se in New York that she found her true calling—that's when she switched her culinary track to pastry. Since then she has become one of Hawaii's most acclaimed pastry chefs. In 2012, Karr-Ueoka received the Rising Star Chef Award from StarChefs.com.
In 2013, she and her husband, chef Wade Ueoka, opened their first joint venture, MW Restaurant, which was a nominee for the James Beard Foundation Award for Best New Restaurant, and Michelle Karr-Ueoka was nominated for Outstanding Pastry Chef. In 2015, the couple opened a casual offshoot, Artizen by MW, at the Hawai'i State Art Museum. Today, both restaurants operate from Velocity Honolulu on Ward Avenue.