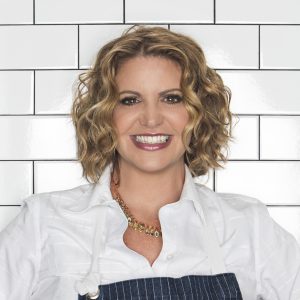 Michelle Bernstein
Café La Trova - Miami, FL
Chef Michelle Bernstein, a Miami native of Jewish and Latin descent, has dazzled diners and critics alike with her sublime cuisine and a personality as bright and vibrant as the Florida sun.
"My food isn't heavy handed or unnecessarily complicated," says Bernstein, a James Beard Award winner (Best Chef South 2008) and author of Cuisine a Latina (Houghton Mifflin Harcourt 2008). "You don't need heavy handed technique and over the top presentations to make a dish work. It's about amazing ingredients, layered flavors and simplicity. My style of cooking is inspired by my own food memories and it's the simple, soulful cooking that I remember from my travels. I cook the food I love and I think that love translates to the diners."
These days, Bernstein is busier than ever. Bernstein and her husband/business partner David Martinez) own/operate MBC Michelle Bernstein Catering Company, Crumb on Parchment, and Café La Trova with bartender/cantinero Julio Cabrera.
Bernstein dedicates time to Common Threads, an after-school program for underprivileged kids, and regularly appears on an array of national TV shows, from Top Chef to Good Morning America. Bernstein also hosts the Emmy award-winning PBS weekly television series, Check, Please! South Florida. Now in its third year, Bernstein also hosts for the weekly TV series on Channel 10, SoFlo Taste that celebrates the food of South Florida.
Most recently, Bernstein partnered with American Express to create the menu for the new Centurion Lounge at Miami International Airport. In addition, she is a Lexus Culinary Master, a member of Macy's Culinary Council and has a partnership with Celebrity Cruise Lines.
Bernstein has also worked with Memorial Cancer Institute (MCI), a part of Memorial Healthcare System, to provide oncology patients with a variety of food alternatives to help ease their way through treatment.