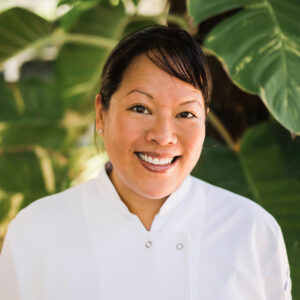 Lee Anne Wong
Papaaina - Lahaina, HI
Lee Anne Wong is the chef and owner of Koko Head Cafe in Honolulu, Hawaii. A native of Troy, New York, Wong graduated from the International Culinary Center (ICC), formerly known as the French Culinary Institute, and began her culinary training at Marcus Samuelsson's Aquavit before playing an integral role in the opening of Jean Georges Vongerichten's Chinese concept, Restaurant 66.
Wong went on to work as the Executive Chef of Event Operations at ICC, during which time she was prominently featured on Season One of Bravo's Flagship Series Top Chef, and subsequently was hired as the series' Supervising Culinary Producer for the next 6 seasons, helping to build the show into the powerhouse it is today. In late 2013, Wong moved from New York City to Honolulu where in 2014, she debuted Koko Head Cafe—an island style brunch house in the Kaimuki neighborhood—to popular acclaim, with Wong recognized on the cover of Honolulu Magazine, as well as in Bon Appétit, Food & Wine Magazine, Honolulu Star-
Advertiser and Huffington Post.
In August 2014, Lee Anne Wong released her first cookbook, Dumplings All Day Wong. She joined Hawaiian Airlines as a guest chef in 2016 and was named Executive Chef for the airline in March of 2018, leading the culinary program and menus for both domestic and international flights.
In March of 2019, Wong moved to Maui with her partner and one year old son. She also participated in Season 17 of Bravo's Top Chef All Stars, filmed in Los Angeles and Northern Italy. Wong's newest project, Papaaina at the Pioneer Inn, located in historic Old Lahaina at the Harbor, showcases her culinary travels while featuring local, Maui grown and raised ingredients, as she reimagines the restaurant for Maui's oldest hotel, The Pioneer Inn.