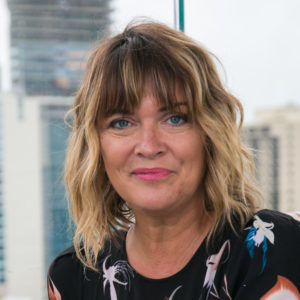 Jen Ackrill
Hau Tree - Honolulu, HI
Jen Ackrill is a featured mixologist for Cocktail Artist, the innovative brand of premium cocktail mixes and bar ingredients available nationwide at Walmart.  With a career spanning more than 20 years, she started her drinks repertoire developing cocktail programs for some of San Francisco's finest watering holes including Rye, one of The City's first modern craft cocktail bars. Here is where Ackrill developed her signature style under the watchful eye of her mentor, Jon Gasparini, creating vibrant and dynamic original libations. She is also a featured bartender for Liquor.com's educational video series.
In August 2014, Ackrill relocated to Honolulu to spearhead the beverage program for the Top of Waikiki and then in August of 2015 expanded that program to include Sky Waikiki.  Hoping to connect with Honolulu's local craft cocktail enthusiasts and bar community, Ackrill left the Waikiki skyline and joined the dynamic team at Pint & Jigger, where everyone knows Dave.
Currently, she is working on new projects and dusting off old cocktail books looking for inspiration.