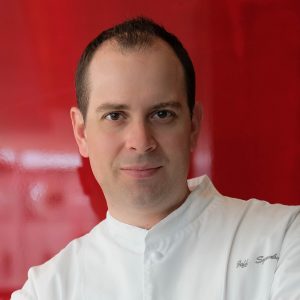 Jeff Szombaty
Hyatt Regency Waikiki Beach Resort and Spa - Honolulu, HI
A native from New Jersey, Jeff Szombaty honed his gastronomic skills early in life working in professional kitchens since he was 16 years old. As an alumnus of the nationally distinguished culinary program at The Restaurant School at Walnut Hill College, Szombaty joined the ranks at Hyatt Hotels in 2000.
He started crafting his career in the kitchens of Hyatt Regency at Penn's Landing, Philadelphia, PA and then went on to become the Banquet Chef at Hyatt Regency McCormick Place in Chicago, IL.
In 2010 Jeff Szombaty began his first post at the famed Hyatt Regency Waikiki Beach Resort and Spa as the Executive Sous Chef where he managed the renovation and re-branding of the complete outlet culinary program. Most recently coming from Canada, he was at the helm of the hotel's culinary operations at Hyatt Regency Vancouver, British Columbia as the Executive Chef since 2014.
Szombaty has now returned back to Hawaii and again to the Hyatt Regency Waikiki Beach Resort & Spa as the Director of Culinary and Food & Beverage Operations where he is leading the culinary vision of the hotel into a new era of gastronomic distinction. His passion for indigenous, seasonal products and sustaining relationships with local vendors and farmers is evident in his style of cuisine, which focuses on simplicity and clarity of flavors. This philosophy of culinary expression has graced Szombaty with numerous awards, accolades and honors.