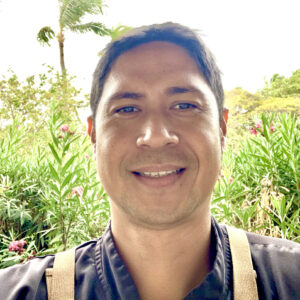 Jayson Asuncion
Royal Lahaina Resort & Bungalows - Lahaina, HI
Jayson Asuncion is the Executive Chef of Royal Lahaina Resort. He is a native of Maui and is from Lahaina. He developed his passion for cooking as a child helping his father in the kitchen.
Asuncion trained at Western Culinary Institute in Portland, Oregon and has over 20 years of experience on the West Coast and Maui. He had the opportunity to work at Citrus in Los Angeles, opening team of Spago Maui, Banyan Tree Ritz Carlton Kapalua, Molly's Restaurant San Diego and Bonavista at Westin Bonaventure Hotel.
Jayson Asuncion is also the co-founder of the Aloha Braised food truck, which serves tasty local delicacies.
Outside of the kitchen Asuncion enjoys surfing and playing his ukulele, where he gains profound inspiration.
He enjoys a great steak, foie gras and once ate 82 oysters at an oyster eating contest!