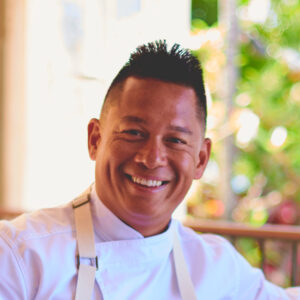 Isaac Bancaco
Pacifico on the Beach - Lahaina, HI
As Executive Chef of Pacifico on the Beach, Maui-born Isaac Bancaco brings with him a repertoire of dynamism, innovation, and a distinctive food philosophy rooted in deep love for his land. He adds an unprecedented twist to his signature style of highlighting farm-fresh ingredients and traditional flavors, breathing new energy to the dining experience at the reimagined Pacifico restaurant.
Following his studies at Western Culinary Institute in Portland in 2000, Bancaco worked at celebrity chef establishments—Ming Tsai's Blue Ginger in the Boston area and Roy Yamaguchi's restaurant in Los Angeles—immersing in world-class standards in culinary, hospitality and service. He is remembered for competing as Ming Tsai's sous chef on Food Network's Iron America and defeating Bobby Flay.
A strong yearning for home pulled Bancaco back to Maui and led him to become the Executive Chef of Grand Wailea's Humuhumunukunukuapuaa Restaurant in 2010. Reacquainting with Hawaiian food and culture, he rediscovered himself. Bancaco became the only chef recognized in TravelAge West's, "Future Faces of Hawaii Tourism" in 2011.
Two years later, Bancaco was tapped as Chef de Cuisine of Kaana Kitchen, Andaz Maui's fine dining restaurant. His strong influence in sourcing local produce, showcasing Hawaiian ingredients, and promoting sustainability revolutionized the domestic food business. His contributions earned him the title of "2014 Chef of the Year" by Maui No Ka Oi Magazine and not long after, attained the position of Executive Chef of the resort.
Isaac Bancaco is intensely in tune with harvests from his island environment having grown up in Kula, a Maui town of ranches and farmlands, and being akin to a family of fishermen. Outside the kitchen, he enjoys spearfishing or paddling, being one with the ocean where he draws profound inspiration. In his new role at the ever-evolving Pacifico on the Beach, he shares his deep reverence for land and community with restaurant owner Louis Coulombe and managing partners Michele and Qiana Di Bari. Combined with his free-flowing creativity and inimitable expertise, he tells a story behind every dish while proudly representing Hawaii.