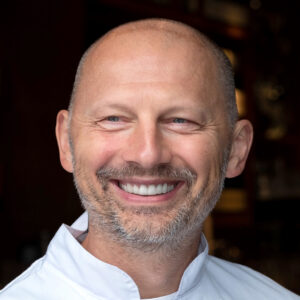 Frank Pabst
Blue Water Cafe - Vancouver, Canada
One of Canada's most accomplished chefs, Frank Pabst's disciplined technique—earned in some of Europe's finest kitchens—is matched to the West Coast's abundant harvest of seafood.
Widely recognized for his creative impetus and leadership in responsible seafood practices, today Pabst leads Blue Water Cafe's brigade of expert chefs in what has been called "One of North America's finest seafood restaurants."
Pabst enjoyed positions in Michelin-starred restaurants throughout Germany and France, including La Becasse (Aachen), the Hotel Negresco (Nice) and Restaurant de Bacon (Antibes).
Directing the kitchens at Blue Water Cafe since 2003, Frank Pabst has consistently demonstrated excellence, both in the procurement of impeccably fresh, sustainable seafood (Blue Water Cafe is a founding member of the Vancouver Aquarium's Ocean Wise program) and in the execution of its cookery, showcasing his trademark cooking ethic of "complexity without complication."
Some of Pabst awards include: City of Vancouver Mayor's Arts Award 2010, Chef of the Year Vancouver Magazine Restaurant Awards 2010, BC Restaurant Hall of Fame 2010, Vancouver Culinary Champion 2008, Chef of the Year Georgia Straight Golden Plate Awards 2008.