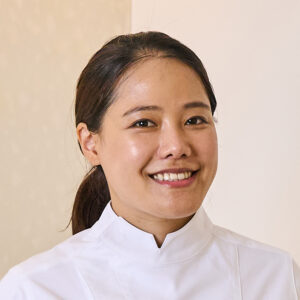 Eunji Lee
Lysée - New York, NY
Eunji Lee was born in South Korea and fulfilled a lifelong dream of studying pastry arts when she moved to France in 2006. Classically trained at the Institute National de la Boulangerie Pâtisserie in Rouen and at the Ecole Ferrandi in Paris, Lee spent three years in the acclaimed restaurant Ze Kitchen Galerie of William Ledeuil and then trained under Alain Ducasse and Cedric Grolet at three Michelin-starred Le Meurice for another four years – where she met her husband Matthieu Lobry.
When the opportunity arose for Lee to combine her classic French training with Korean ingredients, she jumped at the chance to become the Executive Pastry Chef of Jungsik,the two Michelin star modern Korean restaurant in New York in 2016.
Lee was the first non-European contestant and finalist in the French competition Qui sera le prochain grand pâtissier? (Who will be the next great pastry chef?) In 2019, she was awarded 'Rising Star Pastry Chef in NY' and 'Art of Presentation' by Starchefs with her signature dessert, Baby Banana.
Eunji Lee took the stage at the 14th Annual StarChefs International Chefs Congress to compete in the Valrhona C3 North American Final and was awarded second place. Then in 2022, she opened her own pastry boutique, Lysée, in New York City's Flatiron District.