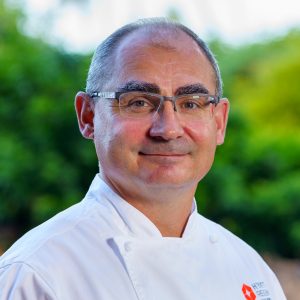 David Flegel
Hyatt Regency Maui Resort and Spa - Kaanapali, HI
David Flegel is a graduate of the Culinary Institute of Canada at Holland College. He has had numerous years of international hotel and restaurant experience working in countries such as Canada, Austria, Switzerland, Chile, Indonesia, Italy, United States and Cruise Ships in the Caribbean. This includes large five star hotels, small boutique hotels, Michelin rated restaurants and high end concept dining.
Flegel's passion for the culinary field has driven him to go to places directly to learn the cuisines he has a love for so he can learn authentic preparation and ingredients. Over his travels he has learned that using wherever possible locally produced products results in the best tasting food on the plate. Through his travels he has developed relationships with local growers and producers to support the communities in their growth and to contribute to the local economy and culture.
David Flegel is fully behind Hyatt's food philosophy of "Food thoughtfully sourced carefully served" that has Hyatt Chefs looking for sustainable, ethical, and quality products for our guests.
Whether it be a large-scale catering event, small private gathering, and restaurant get together or a family outing, Flegel welcomes you to the Hyatt Regency Maui to experience our great food and Beverage offerings throughout the hotel.