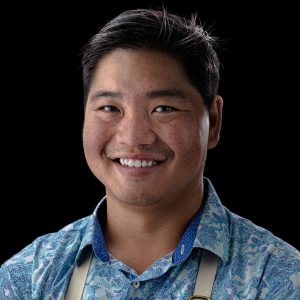 Colin Hazama
C4 Table - Honolulu, HI
Colin Hazama has been on quite an epicurean journey for most of his life. For many years, guests at Waikīkī hotels got a taste of his extraordinary talent. From elevated banquets for thousands and signature breakfast items….to accompaniments paired with premium cocktails, haute cuisine for chefs' wine dinners, and everything in between.
That journey continues today with C4 Table, a concept that shows off Hazama's culinary chops and business acumen he learned through the years from legendary mentors Jean-Georges Vongerichten, Alan Wong and Roy Yamaguchi. At just 38 years of age, Hazama is leading a new generation of epicurean pioneers in Hawai'i.
"C" stands for the first initials of the four members of his tight-knit family: himself, wife Christina, daughter Caya and son Cole. As a lifelong spear fisherman, Hazama consistently uses fresh fish on his C4 Table menus, while working with about 20 different farmers around the island.
"Using fresh, local ingredients and produce is at the core of what C4 Table represents," he says. "My dishes allow me to showcase my island roots through elevated comfort food created by applying the most updated techniques to the best available ingredients locally."
Since its beginning in June 2020, C4 Table has created a buzz and raised its profile with Hazama's familiarity with social media and marketing. Through appearances at farmers' markets and pop-up/pick-ups around town, coupled with "takeout virtual dinners" through collaborations with other restaurants, C4 Table has gained a rapid, devout following. His weekly menus are usually found in the Honolulu Star-Advertiser's Crave food section, and Hazama has made numerous appearances on HI Now, the popular lifestyle segment seen on Hawaii News Now.
Before joining Sheraton Waikiki and The Royal Hawaiian, Hazama held various positions at Hoku's at The Kahala Hotel and Resort, Alan Wong's Restaurant in Honolulu, Roy's Restaurants in San Francisco, California Culinary Academy, and Restaurant Gary Danko in San Francisco, California.