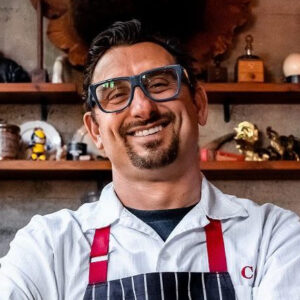 Chris Cosentino
Nick's Cove - Marshall, CA
Passionate chef, author, cyclist, and philanthropist, Chris Cosentino hosts a weekly podcast and is a regular judge and competitor on food TV.
Cosentino began his career at some of the country's most beloved restaurants—including Red Sage in Washington, D.C, as well as Rubicon and Chez Panisse in the Bay Area—after graduating with a BA from Johnson & Wales University. He honed his management skills opening Redwood Park and Belon in San Francisco and Nob Hill in Las Vegas.
Cosentino became executive chef of Incanto in San Francisco in 2002 and put this neighborhood Italian restaurant on the national map. Cosentino drew critical acclaim for his innovative Italian and whole animal cooking. Partnering with Incanto's owner, Cosentino opened Boccalone, an artisan salumi production company with a retail store in San Francisco's Ferry Building. During this time, Cosentino mastered the art of hand-crafted cured meats, helped raise awareness about sustainability, and became an expert on utilizing the entire animal.
In 2014, Cosentino opened Cockscomb restaurant in San Francisco, showcasing a range of dishes inspired by the city's rich culinary and artistic history. His cooking at Cockscomb earned a glowing three-star review from the San Francisco Chronicle's restaurant critic Michael Bauer.
In 2017, Cosentino expanded beyond the Bay Area, opening Jackrabbit in Portland to highlight the Pacific Northwest's rich ingredient palate and talented artisans. They also opened Acacia House in Napa Valley to rave reviews in 2017. In fall of 2019, Cosentino opened his latest restaurant in Downtown Houston, Rosalie Italian Soul, named after and inspired by his great-grandmother, Rosalie Cosentino.
He is the author of James Beard Award nominated cookbook, Offal Good: Cooking from the Heart with Guts (2017) and the 2012 cookbook Beginnings: My Way to Start a Meal.
Cosentino is a member of Chefs Cycle, a 300-mile annual bicycle ride that raises funds and awareness for No Kid Hungry. Cosentino also founded CampoVelo in 2017, an annual weekend-long culinary and cycling event that raises money for World Bicycle Relief and other charities.
Chris Cosentino has been featured on many television shows including No Reservations and cooking competition shows, including competing on Next Iron Chef and hosting Chefs vs City with Aarón Sánchez. Winner of BRAVO's "Top Chef Masters in 2012," earning over $140,000 for The Michael J. Fox Foundation, he's been a judge on Top Chef several times and can be seen on Guy's Grocery Games, Tournament of Champions, and Top Chef Family Style.