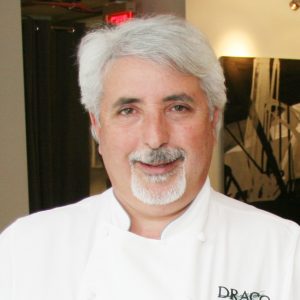 Celestino Drago
Drago Centro - Los Angeles, CA
Chef Celestino Drago has played an integral role in the ever-evolving dining scene in Los Angeles for over three decades. Born and raised in Sicily, Drago has become one of the world's most lauded Italian chefs, with honors including "Best New Chef" in Food & Wine Magazine early in his career, being invited to cook as a guest chef at the historic James Beard House in New York on multiple occasions, being named Food Fare Los Angeles's "Chef of the Year," and most recently Drago's highest honor, being knighted as "Caveliere Celestino" by the Italian government for his dedication and exemplary contributions to the preservation and advancement of Italian culture and traditions in the United States.
Before launching his restaurant empire in Southern California, Celestino Drago attended mechanical school in Italy while simultaneously working at a restaurant in the city of Pisa called Pierino. It was there that he realized he "loved everything about the restaurant business." Recognizing his culinary potential, the chef at Pierino worked closely with him and, in just three short years, Drago took over as chef.
In 1979, Drago was hired as chef at Los Angeles Italian restaurant, Orlando Orsini, prompting him to leave Italy to embark upon a new culinary career in the United States. After working at Orlando Orsini, Drago opened his first restaurant, Celestino, in Beverly Hills. After receiving extremely high praise at Celestino, he was encouraged to open his second restaurant, Drago, on Wilshire Boulevard in Santa Monica. Drago was also met with rave reviews and was consistently rated as one of the top 5 Italian restaurants in Los Angeles before it closed in 2011. It was his success at Drago that led to his subsequent ventures and the Drago Restaurant Group, which includes his artisanal Drago Bakery, the famous upscale eatery—IL Pastaio in Beverly Hills—and Drago Centro in the heart of the Financial District in Downtown Los Angeles.
Drago's cuisine is deeply rooted from his childhood home in Sicily, and since his arrival in Los Angeles over thirty years ago, he has been delighting guests with delectable innovative Italian dishes imbued with the heritage and authenticity. Drago has been touted as one of the "Best Italian Chefs in the United States" by Bon Appétit and the Los Angeles Times has called him, "One of the Best-Known Italian Restaurateurs in Southern California."