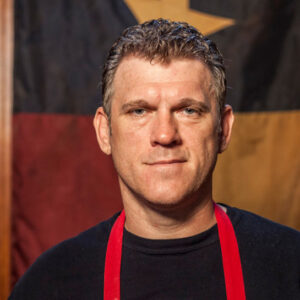 Wayne Mueller
Louie Mueller Barbecue - Taylor, TX
Wayne Mueller is an internationally-recognized and awarded pitmaster specializing in Central Texas Style barbecue. He is a member of Texas Monthly Magazine's "Top 4 Best BBQ Joints in the World", named "Top 5 Texas Pitmaster" by Daniel Vaughn in his magnum opus Prophets of Smoked Meat and a Fox News Top 4 Most Influential Barbecue Pitmasters/Personalities in America.
Mueller began his BBQ education at the age of 8 while working with his father (Bobby Mueller) in the family restaurant, Louie Mueller Barbecue. He apprenticed with Bobby for 11 years before attending college and pursuing careers in professional sports and advertising. In late 2006, at his father's request, he returned to the family business and in 2008 became the third-generation owner/pitmaster of Louie Mueller Barbecue in Taylor, TX—James Beard Award recipient (America's Classics) in 2006.
Wayne Mueller has appeared in countless books and articles, as well as appearances on the Food Network, The Travel Channel, Cooking Channel, CBS and PBS. In late 2015, he was featured in two debut film documentaries on Central Texas BBQ—"Central Texas BBQ" and "For The Love of Meat". Internationally, Mueller has made television appearances in Canada, France and Japan, China and Taiwan. He has travelled to Milan, Tokyo, London and Paris acting as a culinary ambassador, on behalf of the US State Dept, and BBQ missionary—educating his audiences on Texas culture and history while introducing authentic Central Texas Style barbecue to new Asian and European audiences.
In 2015 and 2016, Mueller guided Louie Mueller Barbecue to several honors including: "TopPick" Top 50 BBQ of the South by Southern Living; Best BBQ in the World by Foodie Hub; Tastiest Dish in the World by Foodie Hub (65 countries/275 cities); #1 Ribs in America by The Daily Meal; Best Bite of the Year by James Beard Editor's "15 Best Bites of the Year" Awards; #4 America's Most Influential BBQ Pitmasters and Personalities by Fox News Online; #2 Best Ribs in America by Top 5 Restaurant/Food Network.