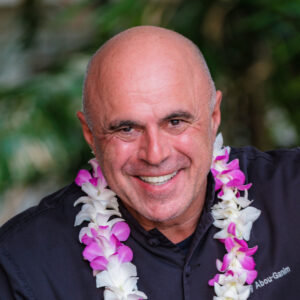 Tony Abou-Ganim
The Modern Mixologist - Las Vegas, NV
Tony Abou-Ganim is widely regarded as one of the pioneering and leading bar professionals in the world. Abou-Ganim grew up in the bar business, learning the craft from his cousin Helen David at the Brass Rail Bar in Port Huron, Michigan. His initial introduction to the business was steeped in the tradition of classic cocktails and professional barmanship, teaching him the necessary steps to become a leader in the beverage industry. After graduating from college, Abou-Ganim further developed an appreciation for a handcrafted cocktail using only the freshest ingredients while working at Jack Slick's Balboa Café and then at the opening of Harry Denton's, a legendary hangout in Fog City. In 1993, he moved to New York City as the bartender for Mario Batali's first restaurant, Po.
Abou-Ganim later returned to San Francisco to open Harry Denton's Starlight Room atop the Sir Francis Drake Hotel. It was here that he developed his first specialty cocktail menu featuring several of his original cocktail recipes including the Sunsplash, Starlight and his most famous of them all, the Cable Car.
In 1998, Abou-Ganim was selected by Steve Wynn to develop the cocktail program at Bellagio Las Vegas. He not only implemented his philosophy of bartending and drink preparation, stressing both quality ingredients and proper technique, but also created hundreds of original cocktails for the resorts 22 bars. As the National Ambassador of the U.S. Bartenders Guild and Associate Member of the Museum of the American Cocktail, Tony Abou-Ganim continues to educate about the history and lore of cocktails. He also operates his own beverage consulting firm specializing in bar staff training, product education and cocktail development.