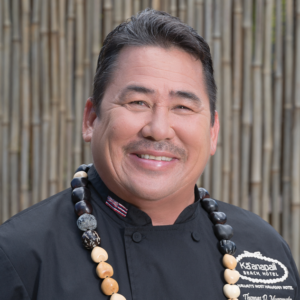 Thomas Muromoto
Huihui Restaurant - Kaanapali, HI
Since 1999, Thomas Muromoto has served as Executive Chef at Maui's Kaanapali Beach Hotel, responsible for all food and beverage operations at this 432-room property. Under his guidance, the cuisine at the hotel's Huihui Beach Front restaurant has reached a level of excellence that has garnered stellar reviews locally, nationally and internationally.
Being born and raised in Hawai'i gave Muromoto a unique perspective on food, a view that has served him well throughout his career as an award-winning chef. Taking cues from the Islands' unparalleled ethnic diversity and the distinctive Native Hawaiian diet alone would have provided him with almost unlimited possibilities. Muromoto has gone further, combining that Island advantage with boundless culinary curiosity to create a style of Hawaii Regional Cuisine that is, truly, his very own.
His earliest inspiration came from the ocean…but, not for the obvious reason. Before he was a chef, Muromoto was a professional surfer. "I've spent my entire life in and around the ocean—surfing, diving for lobster, spearfishing," says Muromoto. "I'm a 'water guy' and I can't imagine living and working anywhere else for just that reason—proximity to the ocean. It gives you a specific viewpoint on the bounty we have in Hawaii that comes from the sea."
Thomas Muromoto has traveled to—and cooked in—Taiwan, Vietnam, Australia, Japan, and the Mainland US. He is often chosen by the Maui Visitors Bureau and other hospitality industry organizations to represent his home island. And it's not just for his cooking. His personality and warmth are exactly what people expect and WANT when they meet a chef from Hawaii.