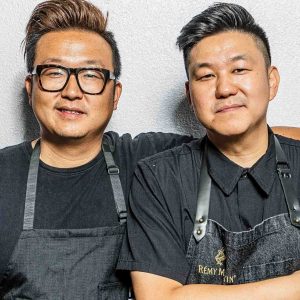 Ted and Yong Kim
Seoul Sausage - Los Angeles, CA
Seoul Sausage has made it their mission to be the ambassadors of Korean-American cuisine. In an ever-changing food landscape, Seoul Sausage has always been unique in their approach & presentation of their food to the masses. Whether it is out of their Food Truck that they won from Food Network, or a decked out Scion xB grilling machine straight out of Pimp my Ride, to catering your office lunches with their signature sausage rice bowls, or simply grabbing a sausage at the newest #LAFC Soccer Stadium, #DallasCowboys or #LARams #USC stands, Seoul Sausage has become synonymous with Los Angeles food culture and the way a food brand connects with its audience. Their mission has, and always will be, to change the world—One Sausage at a time.
Founded by brothers Ted and Yong Kim, Seoul Sausage first broke into the public's awareness when they won Season 3 of The Great Food Truck Race, Food Network's second highest rated show.
in 2021, Ted and Yong Kim competed in and won The Great Food Truck Race All-Stars.