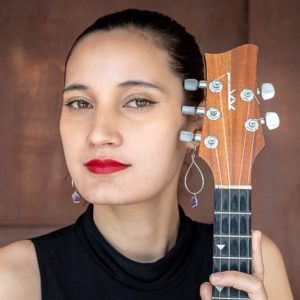 Taimane Gardner
Taimane Music - Honolulu, HI
Virtuoso and songwriter, Taimane, is best known for her fierce and inventive style of playing the ukulele helping the hapa Samoan (part caucasian and part indigenous Samoan) artist garner over 20 million video views and 300,000 social media followers to date.
Hailing from a musical Polynesian family including her late mother, Palepa Tauiliili Gardner (Miss Samoa 1978), Taimane's attraction to the four-string island staple began at age 5. By age 10, she regularly performed in public, busking in Waikiki every Friday night with her father holding down security duties and Waikiki Beach Boys (adults whose home & workplace was the beach) serving as her band. By age 13, Taimane landed a position in Don Ho's show literally playing in the spotlight every week until Ho's passing.
Fast forward to today, and you have an artist who tours the world and has carved out a unique niche in music – merging a wide-array of genres, from Bach to rock, flamenco infernos to tribal hymns, summoning a seemingly limitless palette of emotions via an instrument previously viewed as restricted.