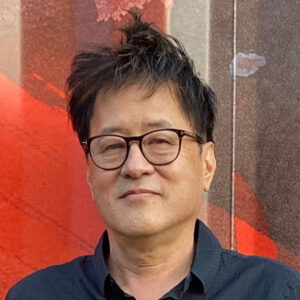 Taiji Terasaki
Honolulu, HI
Taiji Terasaki is a Japanese-American artist based in Honolulu, Hawaii. Growing up in a family of scientists and creatives, Terasaki has immersed himself in exploring innovations in his craft, working in photography, sculpture, immersive and large-scale installations, and pioneering mediums like mist projections as canvas. Terasaki studied in the MFA programs at Hunter College, New York and California State University, Long Beach, and holds a BFA from UC Irvine.
Terasaki made his public debut in 2017 with Edible Landscapes for the Trillenium as part of the Honolulu Museum of Art's exhibition "Contact 3017: Hawaii in 1,000 Years". That same year he also participated in the Curitiba Biennial in Curitiba, Brazil. In 2020, Terasaki's first solo-museum presentation, "TRANCENDIENTS: Heroes at Borders", opened at the Japanese American National Museum, Los Angeles. This exhibition honored individuals who advocate for those who face discrimination, prejudice, and inequality at borders both physical and psychological. The following year, the solo-exhibition "RESET/RESHAPE" was presented at the Maui Arts and Cultural Center. Conceived against the backdrop of the COVID-19 pandemic, the work delved into the complex societal and personal impacts of global events through themes of loss and healing.
In 2018, Terasaki traveled to Palmyra for an artist residency with The Nature Conservancy. Since then, a large part of his practice has centered on the conservation efforts taking place on the atoll and the broader effects of environmental preservation. In 2022, Terasaki participated in the UN Ocean Conference in Lisbon, Portugal as a featured artist in the Schmidt Ocean Institute's Artist-at-Sea exhibition. Currently, he is working on a mural focused on food sustainability for the new headquarters of the Mural Conservancy of Los Angeles, and a collaboration with the non-profit environmental organization Parley for the Oceans.
A long-standing supporter of Honolulu's arts community, Terasaki served on the board of the Honolulu Museum of Art for many years and is currently a board member of the Honolulu Biennial Foundation. In 2012, he founded Art Explorium, a nonprofit providing high-quality arts education experiences for children in Honolulu. Most recently, he founded MakeVisible, an organization whose mission is to support educational art exhibits focusing on the core concepts of conserve/preserve/restore.