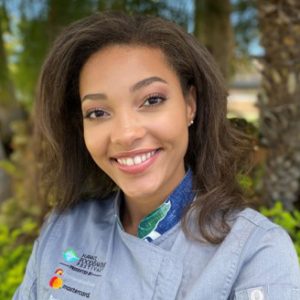 Sophia Stark
Honolulu, HI
Sophia Stark is a past winner of the Hawaii Food and Wine Festival's Localicious Recipe Contest and is thrilled to be back, for a second time, as a judge for the Localicious competition! She was a season six contestant on MasterChef Junior, and won a coveted white apron and received culinary training from Gordon Ramsay.
Cooking and baking since the age of six, Stark is inspired by her family and the American culinary legend, Julia Child. Her favorite dishes to make are filet mignon, lamb, opah, and European style desserts. She strives to use fresh local ingredients and loves to showcase "island flair" in her dishes. Stark loves to travel and sample dishes from the mainland, Europe, and Asia. In partnering with the Hawaii Agricultural Foundation, she recently helped to raise funds for their education program by hosting an online session called "Cookies & Chat with Sophia". Young chefs were invited to bake cookies and connect through a virtual platform. She hopes to inspire kids (and adults) by emphasizing how cooking can be fun and enjoyable, from making staple classics to trying new flavors to make something truly unique. Numerous cooking experiences include organizing and executing a fundraising dinner for the Children's Miracle Network at Roy's Hawaii Kai, working alongside Chef Roy Yamaguchi, and offering cooking demonstrations at a local school with the Hawaii Agricultural Foundation. Stark was a featured chef on the local television show, Cooking Hawaii Style (OC-16) and has also shared seasonal recipes on Wake Up 2day-Take 2 (KHON2).
This home schooled teen has achieved academic excellence and graduated high school two years early, with over 40 college credits, at the age of 16. This year Stark was honored to be the inaugural title holder of Miss Hawaii Teen Volunteer 2021. With this title she continues to raise awareness about her platform of arts advocacy in addition to serving as a spokesperson for the American Lung Association.
Stark is also an artist, and has won local, national, and international art prizes and awards, including the Toyota World Dream Car Art Contest. She made her professional operatic debut at eight years of age and has performed other solo roles with the Hawaii Opera Theatre (Hawaii's only professional opera company). As a full scholarship recipient in Hawaii Opera Theatre's Orvis Young Artists program, she performed in two virtual Hawaii Opera Theatre productions; Yum-Yum in The Mikado and Mabel in Pirates of Penzance (both were recorded and produced during the COVID-19 pandemic). As a winner of the Hawaii Symphony Orchestra's Nā hōkū 'ōpio Young Stars Competition, Stark was honored to perform as a vocal soloist in concert with the symphony this past summer.
Another highlight for Stark was her collaboration with former U.S. Presidential candidate and political activist, Ralph Nader. She illustrated a newly published children's book titled, I Lost My Bontalona, written by Mr. Nader. The book was released this year and teaches kids and parents alike, that sometimes when you are searching for something lost, you will eventually find it where it was supposed to be in the first place.
As a local and national scholastic and artistic scholarship winner, Stark's future goals are two-fold, first to share her love of the stage by studying musical theatre in New York City in hopes of performing on Broadway, and secondly, she aspires to provide performing arts instruction for underprivileged children and teens.
Stark enjoys playing piano and church organ, and dancing ballet, jazz, tap, hula, and Tahitian. She shares her love of dance by teaching ballet, tap, and jazz to young students. She can also be seen modeling and acting for T.V., commercials, and film. She recently landed the role of Cassie on an episode of the new series, Doogie Kamealoha M.D. airing this fall on Disney+