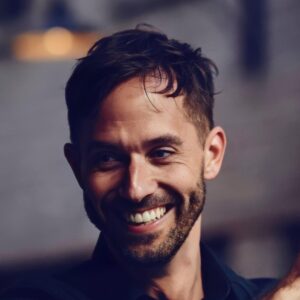 Shawn Lickliter
Republique - Los Angeles, CA
Shawn Lickliter is one of the foremost bartenders in Los Angeles. Since 2014, Lickliter has been the beverage director for Chefs Walter and Magarita Manzke's properties which include Republique, Manzke, Bicyclette Bistro, Petty Cash Taqueria, and Sari Sari Store. A self-taught bartender from Eastern Tennesse, Lickliter originally came to Los Angeles as a touring musician. Like many musicians, he would often take on bartending gigs between tours, and over many shaken cocktails, late nights, and more-than-colorful patrons, began to realize that this might be his calling. Lickliter continued to hone his craft and eventually landed at the esteemed Beverly Hills restaurant Bouchon, working alongside some of the city's culinary greats. He then found employment with the highly-respected Manzkes, who have been instrumental in giving him multiple venues to demonstrate his curiosity, ingenuity, and discipline. Lickliter has made a name for himself and these establishments, and, along with other talent in the city, has helped to define the conversation around cocktails and their vital role in Los Angeles' nightlife.
Lickliter personally oversees the bar programs and staff at all five properties with exacting detail, and you can often find him behind the bar at these restaurants bringing his renowned cocktails to life. He has been a pioneer in advocating for independent producers, and partners with brands who not only provide the highest quality output, but who produce their spirits in the most sustainable ways possible.
Prior to the opening of Bicyclette Bistro, Lickliter and Chef Walter started to think creatively about how to further elevate a bar program, which led to their interest in procuring vintage spirits. Through estate sales, auctions, brokers, he has paved the way securing often rare and near impossible-to-find spirits, with a specific focus on European whiskey, American whiskey and brandy ranging from the 1930s to all the way up to early 2000s. Today guests can try these exclusive spirits for themselves at Manzke, the much-anticipated tasting menu restaurant from the eponymous chef duo.
Shawn Lickliter continues to push boundaries and is as considered one of Los Angeles' most respected, talented, and innovative wine and spirits professionals.