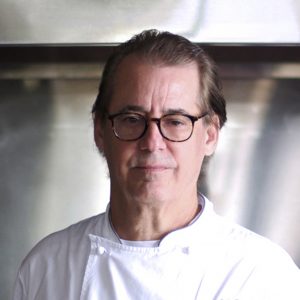 Robert Del Grande
The Annie Café & Bar - Houston, TX
Robert Del Grande, executive chef and partner of The Annie, is widely recognized as one of the most celebrated chefs in America having pioneered and developed Houston's culinary scene.
The near 40-year industry veteran has been recognized time and time again with prestigious industry awards and honors from top organizations including:
James Beard Foundation "Best Chef: Southwest"
Food Arts "Silver Spoon Award"
Houston Culinary Awards "Chef of the Year"
Food & Wine "Honor Roll of American Chefs"
One of the Best Things to Eat in Houston "ChefsFeed Winner"
"Distinguished Alumni Award" from the University of California at Riverside
Inducted into the "Who's Who in American Cooking"
Originally having received his BS in Chemistry and Biology from the University of San Francisco in 1976 and then his PhD in Biochemistry from the University of California at Riverside in 1980, Del Grande pivoted career paths while courting his now wife, Mimi. He ventured to Houston with Mimi to visit her sister and brother-in-law, who had opened Café Annie two years earlier. Needing a chef for their restaurant, Robert began experimenting in the kitchen and soon became Executive Chef and partner.
In May 2009, Café Annie closed and reopened as "Restaurant RDG" a few blocks away. Del Grande and his brother-in-law, Lonnie Schiller, are partners in the Schiller-Del Grande Restaurant Group, which operates The Grove and The Lake House—two restaurants located at Discovery Green, the signature urban park in downtown Houston. In addition, they have been founders and partners in other ventures, such as Café Express and Taco Milagro.
Robert Del Grande has also done ideation and food concept work for several national restaurant chains and other food groups. He is also a founding partner in the ROXOR Artisan Spirits Company where, using his knowledge of the laboratory sciences, he developed the intricate formula for ROXOR Gin.
A true Renaissance man, he also finds time to play in his band "The Barbwires" with Dallas Great Chef Dean Fearing. In 2013, Del Grande was also named "One of the Coolest People in Food" by The Daily Meal.