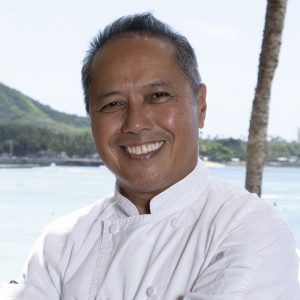 Rey Baysa
Outrigger Reef Waikiki Beach Resort - Honolulu, HI
Rey Baysa is the Executive Chef for the Outrigger Reef Waikiki Beach Resort. He joined Outrigger in April 2021 and oversees the operations of Kani Ka Pila Grille at Outrigger Reef Waikiki Beach Resort. The casual resort restaurant services the property with breakfast, lunch, dinner and room service. Enhanced with additional seating and furniture, Kani Ka Pila Grille hosts award-winning Hawaiian musicians nightly to an enlarged stage with new sound system. Additionally, Baysa oversees the resort's catering and the Voyager 47 Club Lounge.
Baysa was most recently executive chef at Hilton Waikiki Beach and prior, chef de cuisine at Kapolei Golf Club, while also assisting the Hawai'i Convention Center with its culinary needs. He gleaned his food and beverage experience, including food production, purchasing, menu development, banquets and multi-restaurant operations, at Hard Rock Café Honolulu; Tommy Bahama Restaurant and Bar in California; Cal Hi Aspen, The Ritz-Carlton, Embassy Suites Resort, The Westin Maui and Inter-continental Hotel Wailea all on Maui; Hanalei Bay Resort & Suites on Kaua'i and The Boca Raton Resort & Club in Florida.
Trained by chefs from Austria, Switzerland, Germany and France in the European-style of cooking during his apprenticeship with the Inter-continental Hotel Wailea Maui, Baysa enhanced his culinary knowledge in the cuisines of Hawai'i and the Pacific Region over the years and is a Certified Chef de Cuisine through the American Culinary Federation.