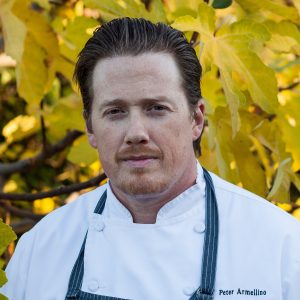 Peter Armellino
Plumed Horse - Saratoga, CA
Chef Peter Armellino began cooking professionally in Long Island, New York at the age of 17. Growing up in rural Suffolk County surrounded by farmland and top-notch seafood cultivated his love for food and cooking. In the early 90's, Armellino made the big move to New York City.
Throughout his twenties, Armellino honed his craft working in some of New York City's best restaurants. Having returned from an eye opening travel experience in Europe, he decided to challenge himself with another move, heading west to the mecca of California cuisine, the Bay Area. He began working alongside Chef Laurent Manrique, first at Campton Place and then later at Aqua restaurant as Chef de Cuisine. They were awarded two Michelin stars in the inaugural Bay Area Michelin guide.
The Plumed Horse has also been awarded a coveted Michelin Star consecutively since 2009. The Plumed Horse's quintessentially California cuisine is luxurious and refined. Named the Best New Restaurant in 2008 by Esquire and with one Michelin Star for the last 10 years, this contemporary Californian restaurant features a seasonal menu using the highest quality ingredients, including sustainably sourced fish and shellfish, and local and organic produce.
The original Plumed Horse in Saratoga opened in 1952. In 2008 the restaurant underwent a multimillion-dollar facelift and with the addition of Peter Armellino, have transformed into an entirely new restaurant. Its cutting-edge design—with a glassed in Chef's Table, multi-colored chandeliers, and a three-story glass wine cellar—creates a modern stage for Armellino's contemporary California-inspired menu.  The list of 1,800 wines from around the world is encyclopedic and the service is formal but friendly.